On Monday, one day prior to the opening of the World of Concrete show in Las Vegas, International debuted it's new Class 8, HX series of vocational trucks—the first completely new line the company has offered since 2010.
The new HX Series trucks feature a huck bolted frame and cross members and a 12.5-inch single frame rail to stand up to the twisting and racking forces encountered on uneven ground. Rated at 3.5 million rbm, the rails weigh 13 percent less than a 10-inch rail, which gives you more weight for payload.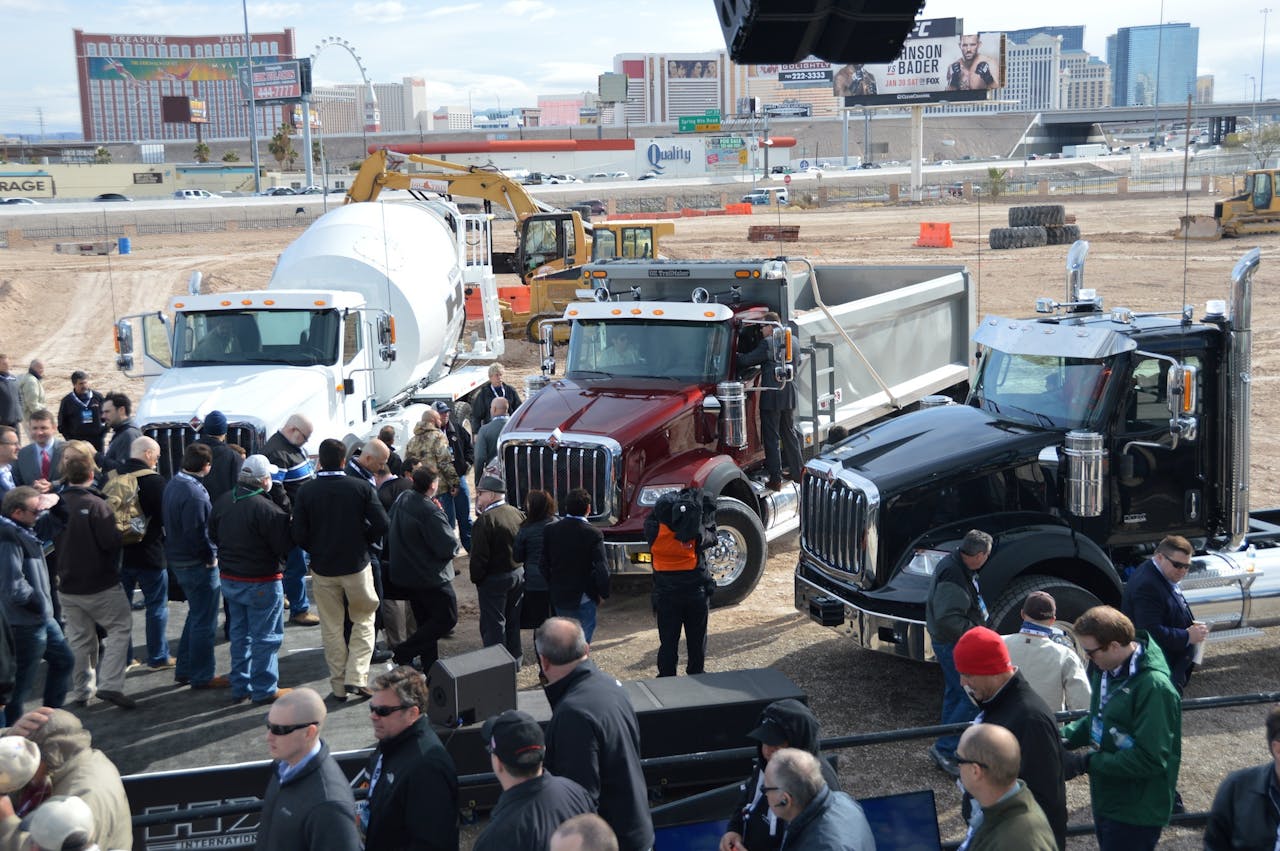 The cab is constructed of aluminum for rustproof longevity and sits on an air-ride suspension system and 52 inch springs to help even out the bumps and ruts found on most construction sites. The wheel cuts crank to 40 degrees for increased maneuverability in tight spaces. A three-piece Metton hood keeps the weight down and is less prone to damage and cracking than fiberglass.
On the inside, the cab features all the bells and whistles drivers come to expect in a premium truck including: standard power windows and locks, air conditioning, tilt and telescoping steering wheel, LED lighting, and an angled right-hand console for better visibility to gauges. The doors swing on long-lasting stainless steel piano hinges.
If you have occasion to do recovery work, the HX series sports a tow pin with a 150,000-pound rating, the industry's highest, according to International.
The company is offering four models of HX series trucks, both set-forward and set-back front axle models in either short or long hood. In Las Vegas the company showed three models including:
The HX515, a 115-inch BBC set-forward axle for concrete mixer, construction dump, refuse/roll-off and crane applications.
The HX615, a 115-inch BBC set-back axle for construction dump, concrete mixer, platform stake/crane and refuse/roll-off tractors.
The HX620, a 120-inch BBC set-back axle with primary vocations including heavy haul tractor, construction dump and platform stake/crane.
A fourth model, the HX520, will be unveiled at Truck World in Toronto in April. It has a 120-inch BBC set-forward axle for heavy haul, construction dump and platform stake/crane applications.
The HX515 and the HX615 models will come with Navistar N13 engines. The HX520 and HX620 models offer the Cummins® ISX15 engine.
The HX series will replace International's PayStar series of trucks.