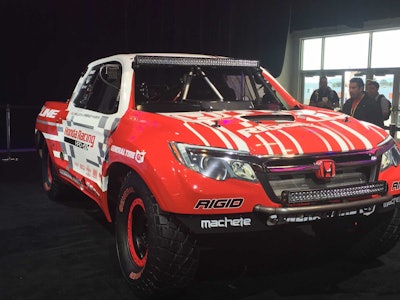 Honda kicked off the 2015 SEMA show here in Las Vegas with a bang, introducing a powerful new version of its Ridgeline pickup that both speaks to the company's racing tradition and a new design direction for its award-winning midsize pickup.
Tuesday morning, Honda pulled the sheet from the 2016 Ridgeline Baja Race Truck which "represents our first ever Honda factory campaign to race the Baja 1000," said Art St. Cyr, president of Honda Performance Development (HPD). The truck is built atop a tube frame racing chassis with styling by the company's design studio in California.
The truck is powered by a 555-horsepower, 3.5-liter twin-turbocharged HR35TT V6 racing engine developed in-house by HPD.
But much of the buzz around the truck's unveiling this morning was due to the fact that it's our first look at what the second-generation production Ridgeline will look like when it debuts in the first half of next year.
Though most of the truck is outfitted specifically for the demands of desert racing, St. Cyr said its front fascia, side profile, hood line and roof resemble the 2017 Ridgeline. Even the truck's racing engine uses the same block, cylinder heads and crankshaft the production engine will.
"It does a nice job of expressing not only our styling direction but also the fact that the Ridgeline for all its unique qualities has been and will continue to be a pickup with true truck capabilities," St. Cyr said. "This means solid towing, hauling and off road credentials in the midsize pickup segment."
The 2014 Ridgeline was the last production model of the unibody midsize truck, which was introduced in 2005 and won Motor Trend's Truck of the Year award in 2006. Honda says the truck introduced several features to its segment including a dual-action tailgate and lockable in-bed Trunk.
And St. Cyr confirmed that the 2017 Ridgeline would maintain that unibody construction, which he says was one of the features that made the original truck unique.
"Our unibody approach made the truck more comfortable on the road," he said.
The 2017 Ridgeline is being designed in California and will be built in Lincoln, Alabama.
Editor's Note: Jason Cannon contributed to this report.