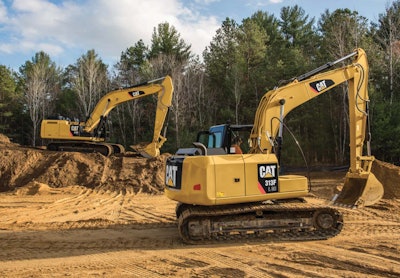 Sometimes it's hard to see a practical use for social media. Especially if you're in the business of construction or heavy equipment.
That being said, Caterpillar has figured out a pretty good use for Periscope, an app made by Twitter that allows users to live stream video from anywhere with the tap of the screen.
Today, October 8, Cat will be live streaming 8 video segments from its Peoria-area headquarters and proving grounds, through Periscope. Four of the live segments will feature product demonstrations and the other half will highlight facility tours, technology and customer support solutions, Cat says.
For example, one of the live streaming segments will feature a walkaround done with the company's new Cat Inspect App, which we covered a few weeks back.
To watch along live you'll need a Twitter account for sign in, and you'll need to download the Periscope app from your iPhone (App Store link) or Android device (Google Play Store link). Once installed, head to the people tab (it's the button on the far right of the bottom toolbar) and search for the Caterpillar Inc. account and tap the plus button to follow Cat.
You can also enable notifications and the app will send you an alert any time Caterpillar or anyone else you follow is hosting a live stream. And if you have any trouble with the above steps, just click here.
The full schedule and all the machines being demoed are listed below. And as you can see, things get underway right at the top of the morning at 8 a.m. Central/9 a.m. Eastern.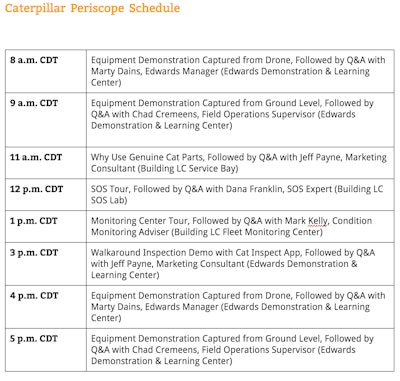 List of machines to be demonstrated:
Articulated Trucks
Backhoe Loaders
Dozers
Excavators
Motor Graders
Multi-Terrain Loaders
Off-Highway Trucks
On-Highway Trucks
Skid Steers
Wheel Loaders
Wheel Tractor Scrapers