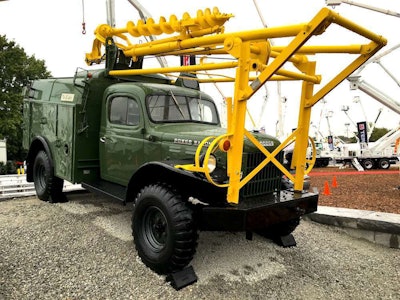 With Terex celebrating the 70th anniversary of its digger derricks and utilities business, the heavy equipment manufacturer decided to bring along a throwback with all of the new equipment being shown at this year's International Construction & Utility Equipment Exposition.
Near the edge of the L lot of the Kentucky Exposition Center in Louisville, Terex has parked a 1955 Dodge T137 Power Wagon complete with the Tel-E-Lect digger derrick that started it all for Terex Utilities.
The T137 seen here has a 6 cylinder engine pushing a now-paltry 99 horsepower.
The Tel-E-Lect, coined for the Telephone and Electric utility installations the attachment was designed for, was launched in 1945 and found a perfect companion in the Power Wagon, a beast of a truck originally intended for military use.