Approximately 300 of Morbark's dealers and customers from more than a dozen countries descended on Winn, Michigan, last week, to take part in the company's ninth Demo Days.
In addition to touring Morbark's facilities and meeting the employees who build and support the equipment, attendees headed out to the company's proving grounds, where they were able to watch demonstrations of the company's line of chippers, grinders and shredders. Visitors were also able to try out Morbark's Boxer line of compact utility loaders.
HT1042 Slow-Speed Shredder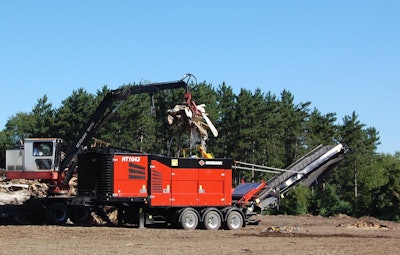 One of the biggest attention-grabbers at the demo site was the HT1042, a slow-speed shredder designed to reduce a variety of waste streams, including construction, demolition and green waste. The 70,547-pound machine has either a Cat, Cummins or John Deere engine delivering between 440 and 600 horsepower.
The 8-foot, 4-inch-wide HT1042 has a transport length and height of 32 feet, 5 inches and 13 feet, respectively, and an operating length and height of 51 feet, 7 inches and 11 feet, 1 inch. The unit's discharge height is 15 feet. Fluid capacities for the machine are 184 gallons for the fuel tank and 200 gallons of hydraulic oil.
The rotor chamber measures 3 feet, 6 inches, with a 9-foot, 10-inch rotor length, and a 3-foot, 5-inch rotor diameter. The rotor weight is 9,500 pounds, with variable speed from 0 to 40 rpm, and 2.2 million inch-pounds of rotor torque.
The machine's 17-foot, 10-inch by 40-inch belly conveyor features Dura-lite slides and EP 400/3 smooth belting, and the 25-foot, 6-inch by 48-inch stacking conveyor also has pan support with Dura-lite slides and a three-ply aggregate belt with Chevron cleats.
Morbark also demonstrated their Beever M20R Forestry, 30/36 NCL track whole tree drum chipper, 40/36 NCL whole tree drum chipper, 3200 Wood Hog horizontal grinder, 6600 track Wood Hog horizontal grinder, 1300B tub grinder and a rebuilt 2004 model 50/48 NCL whole tree drum chipper.