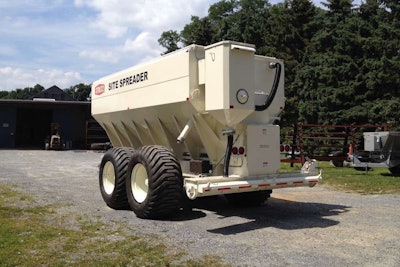 Boasting design improvements to its floater trailer the company says makes it 40 percent stronger, Stoltz Manufacturing has launched the new 27-ton SS-2518 pull-type soil stabilization spreader.
The new 80,000-pound trailer design features a fully welded structural tubular steel frame and a walking beam suspension with 710/50-30.5 floatation tires. Each trailer is equipped with a self-contained hydraulic system powered by a tractor's power take off (PTO). It can also be used without a PTO using the optional auxiliary engine.
Stoltz markets the SS-2518 as a convenient and cost-effective alternative to a truck mounted cement spreader.
The redesigned SS-2518 is computer controlled with the Stoltz Controller, which monitors vehicle ground speed and automatically adjusts the spreader's output to maintain a constant spread rate, up to 120 pounds per square yard at two miles per hour.
The spreader is also available in a 15-ton model SS-1516.