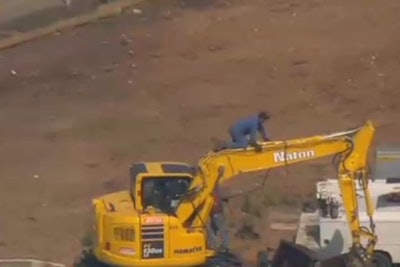 An excavator being transported by a truck trailer struck an overpass on a California highway last week, causing a traffic accident and lane closures.
According to a report by Fox 5 TV, the truck was hauling the excavator along Route 163 in Kearny Mesa when it passed under the the Clairemont Mesa Boulevard overpass. Without the proper clearance, the excavator collided with the bridge on the morning of July 30, and "exposed rebar, broke off pieces of concrete and sent debris into the the roadway," the station reports.
The California Highway Patrol told the station that the debris from the overpass caused a two-vehicle crash shortly after the incident.
The far right southbound lane of Route 163 was closed along with one westbound lane of the overpass to allow a California Department of Transportation official to inspect the bridge.
Caltrans District 11 Director Laurie Berman told CBS 8 that long term lane closures will be needed to make repairs.
"Lane closures on both the overcrossing and freeway will be needed to make the necessary repairs," says Berman. "We are expecting delays on both the freeway and city streets through the area during peak commute hours, so motorists should seek alternate routes for the next few weeks."
There is no word on the cost of repairs at this time.