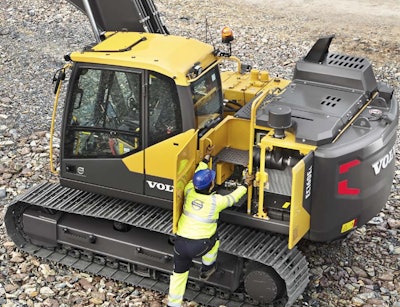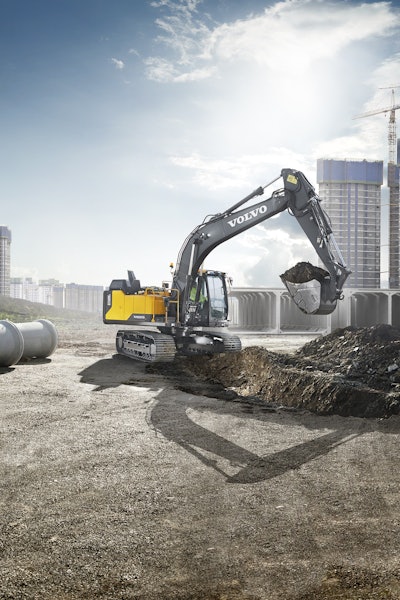 Lower operating cost combined with operator comfort were key for Volvo Construction Equipment when designing the EC160E, the company's newest E-Series crawler excavator.
The new machine features a Volvo Tier 4 Final D4 engine that delivers an 8-percent improvement in fuel efficiency and a 5-percent boost in both tractive force and engine power when compared to previous models.
"Improvements to cab design, fuel efficiency and power on the EC160E all contribute toward achieving a lower operating cost for the owner and higher productivity and comfort for the operator," says Matt McLean, Volvo's product manager for excavators.
To further boost efficiency, the excavator's hydraulic system is optimized to work alongside a fully electronic control system.
All E-Series crawler excavators have Volvo's ECO mode, which reduces power loss while improving controllability and response time. The mode works with the main control valve and machine software to ensure efficient electronic pump control.
Cycle times are reduced via a boom float function that allows the pump power from boom lowering to be transferred to other functions.
Volvo addressed the operator experience via ergonomic machine interfaces that include joysticks, keypad and a large LCD monitor. The number of switches has been reduced and a shortcut key has been added to the joystick to ease operations such as windshield wipers, cameras and auto-mute.
Operators can use Volvo's integrated work mode system to choose the correct mode for the application, improving both fuel usage and machine performance.
Additional features include:
Emergency engine stop located at the base of the seat and accessible from both the seat and the ground
Optional automatic engine shutoff feature that powers off the engine when the machine is inactive for a pre-set amount of time
Optional side-view camera that enhances safety by covering the operator's blind spot and working in conjunction with the standard rear view camera
Easy machine servicing is achieved through convenient access to the hydraulic and fuel tanks, grouped filters and ground level access to components such as the radiator, charged air cooler and hydraulic oil cooler. Punched anti-slip plates improve grip. The monitor provides real-time service alerts for quick diagnostic information.
Available attachments include the Volvo GP, HD and XD buckets and the HB-18 hydraulic breaker. A full range of quick couplers is available, and the password protected management system stores information for up to 20 different attachments.