Continuing the introduction of its Navigator S3 horizontal directional drills, Vermeer today announced the addition of the D24x40 S3 and D40x55 S3 models to its lineup.
Both models offer significant sound reductions with a guaranteed sound power level of 104 decibels (see chart). "This cuts the sound power level basically in half," says Jon Kuyers, senior global underground product manager, underground for Vermeer. "It's like turning a stereo down from a 10 level to a five."
The sound reduction was accomplished in two primary ways. First, the sound and air from the oil cooler is directed toward the back of the machine, and then exhausts out the top, moving it away from anyone standing toward the rear of the machine.
In addition, a hydraulically operated cooling fan controls the amount of rpms produced, thus reducing noise.
Reduced sound levels are significant on several fronts, say Kuyers. Since drills often sit in one spot during the day to complete a bore, reducing decibels lessens the irritation factor, especially in urban areas. Crews can communicate more easily. And noise reduction is important in the European market with its noise regulations.
D24x40 S3 drill
The D24x40 S3 has 28,000 pounds of thrust and pullback and 4,200 foot-pounds of rotational torque, a boost of 200 foot-pounds from the Series II machine. Powered by a 125-horsepower 4.5-liter John Deere 4045 engine, the unit has a carriage speed of 240 feet per minute and a rotation speed of 270 rpms.
"The D24x40 hits the sweet spot for contractors pulling 6- to 8-inch pipe and fiber contractors who shoot 800 feet out," Kuyers says.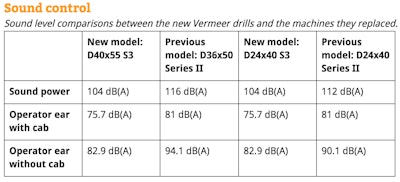 D40x55 drill
Designed for water and gas distribution contractors, the D40x55 S3 offers 10 percent more thrust and pullback from its predecessor D36x50 Series II while remaining in the same footprint. "A lot of guys are trying to do larger work with a smaller footprint machine," says Lee Schroeder, applications specialist with Vermeer. "We put in a larger displacement motor that allows us to still keep the same footprint."
Capable of installing 2- to 16-inch diameter utilities, the D40x55 S3 has 40,000 pounds of thrust/pullback and 5,500 foot pounds of rotational torque. Powered by a 140-horsepower 4.5-liter John Deere 4045 engine, the unit's 188-feet-per-minute carriage speed is 7 percent faster than its predecessor. Contractors can choose from three drill rod options: 10-foot rod in 2.38-inch or 2.63-inch diameters and 15-foot rod with a 2.63-inch diameter.
Both the 24×40 S3 and the 40×55 S3 have the common controls seen throughout the S3 lineup. "Everything is laid out the same," Kuyers says. A DigiTrak Aurora interactive, full-color touch screen display delivers real-time location information and bore plans. In addition, an onboard self-diagnostic system allows operators to make machine adjustments.
In June, Vermeer announced the its D23x30 S3 drill, the smallest of the three drills the company is debuting before the upcoming ICUEE trade show in Louisville, September 29-October 1.