Continuing its E-Series excavator introductions, which began last year at ConExpo, Volvo Construction Equipment launched the EC140E at its annual Volvo Days event in Eskilstuna, Sweden, last week.
The 119-horsepower unit has an 8,200-pound maximum lifting capacity, and an 18-foot 3-inch dig depth.
"The really big news on the E Series is the cab," says Johan Henrysson, Volvo application engineer, as he takes us on a tour. (More details in the slide show above.)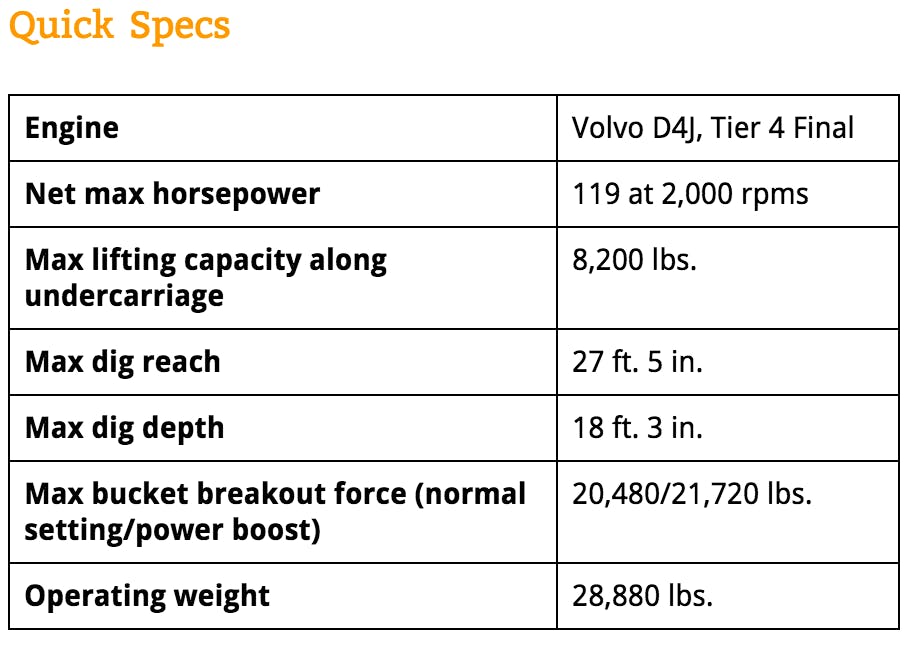 One upgrade from the D Series is the 8-inch in-cab display. Even displaying the rear camera, the display still shows the essential machine operational gauges, eliminating the need to switch back and forth between screens. A side-view camera is optional.
Volvo has added a fourth level to its General working mode. "At this level, you're able to work at lower rpms when you're doing applications where precision is more important than speed," Henrysson says. Other work modes include I for Idle, F for lifting and H for high power or heavy work that demands maximum engine output.
The right-side control panel keypad has been redesigned and includes a Bluetooth function, allowing operators to make phone calls and stream music. Climate control has been integrated into the keypad for easy adjustments.
Functions such as the windshield wipers, cameras, auto-mute or power max can be assigned a shortcut button on the joystick, which gives operators the ability to select these functions without stopping operations. A seatbelt warning alarm is issued if the ignition key is turned while the seatbelt is unbuckled.
Another screen on the LCD display shows Volvo's password-protected attachment management system, which allows you to store the hydraulic settings for up to 20 different attachments. The attachment response sensitivity can be adjusted via the keypad.
A boom float function allows hydraulic pump power for boom lowering to be saved and used for other functions, which reduces cycle time and makes grading easier. An auto idle system reduces engine speed to idle when levers and pedals are not activated after a set period of time, and an auto engine shutdown feature automatically turns off the engine after a pre-set amount of time (the default is five minutes).