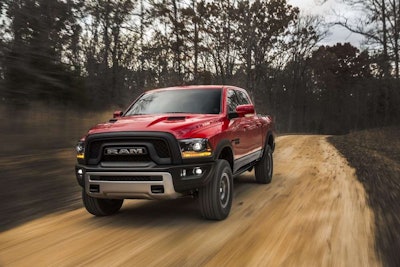 Ram has announced pricing on the two pickups that represent the first front end redesign for the truck brand in many years.
We'll start with the 2015 Rebel, an off-roading-inspired model with a new grille and front bumper design incorporating a skid plate, front tow hooks and LED fog lamps.
The Rebel will start at $42,790 for the two-wheel drive Crew Cab model with the 5.7-liter Hemi V8. If you want four-wheel drive, the price increases to $44,720 with a 2.6-liter V6. Four-wheel drive and a Hemi will run you $46,370.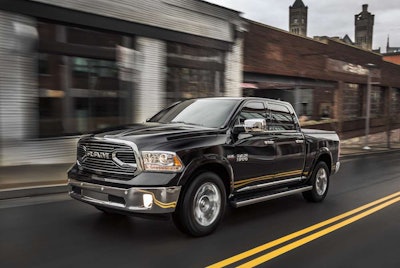 Like the Rebel, the new Laramie Limited does away with Ram's familiar crosshair grille in favor of one that features the RAM nameplate. And as the "benchmark in truck opulence," as Ram calls the truck, the Limited features all the chrome you'll ever need, a leather-smothered interior and "more features than select luxury sedans."
As such, the truck starts at $50,675 for the 2WD Crew Cab with a Hemi. If excellent fuel economy is important to you, you'll be able to outfit the Limited with Ram's 3-liter EcoDiesel V6 for $53,795.
The 4×4 models start at $54,180 with a Hemi, while the 4×4 EcoDiesel will run you $57,300.
Both trucks will hit dealerships in July.