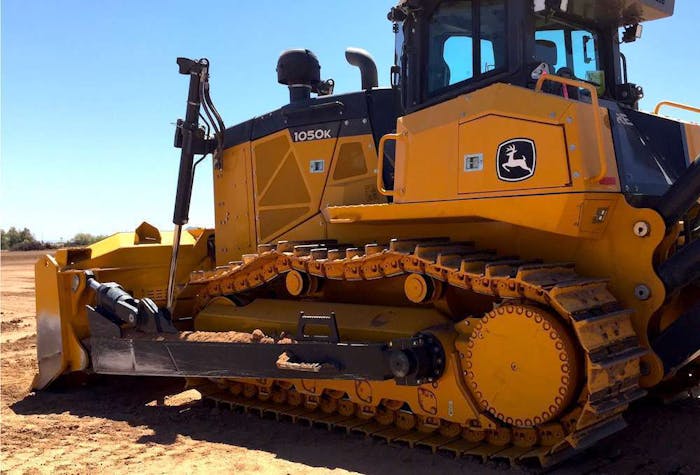 After debuting its 1050K dozer earlier this year, John Deere recently gave editors a detailed walkaround of its largest, most powerful dozer.
"We needed to prove to customers the 1050K could move more material than what they're used to moving today," says Mark Oliver, John Deere dozer product marketing manager. To do this, Deere focused on four things in the four-year development of the machine, which replaces the Tier 3 1050J:
Horsepower, provided by a 350-horsepower John Deere 13.5-liter Tier 4 Final diesel using cooled exhaust recirculation and selective catalytic reduction
Operating weight: the 1050K has an average operating weight of 95,000 pounds (this can vary between 94,000 to 96,000 pounds, depending on the configuration)
Track configuration, which at 135 inches in length provides "the largest amount of track on the ground in this machine size class," Oliver says. The track has two extra shoes compared with typical tracks.
The use of a dual-path hydrostatic transmission instead of a torque converter. "The efficiency of getting power from the engine to the ground is much better with hydrostats," Oliver says. "We can really dial in the horsepower and weight and know what we're going to get to the ground," adding that because Deere designed both the engine and transmission on the 1050K along with the components' software, "operators can really customize it and get the performance they want."
As an illustration of this customization, Oliver uses the example of changing directions. Many operators are used to a dozer rolling forward a bit after they shift from forward to reverse. With the hydrostat, you can use the in-cab monitor to set the direction change parameters to mimic that exact feel, or you can dial in an immediate direction change, or opt for something in- between.
Lock-in Eco mode
For owners to take full advantage of the machine's Eco mode feature, Oliver suggests the following strategy: first allow your operators to run full throttle at 2,300 rpms, and have them pay attention to the productivity they're achieving. Then have them run the machine in Eco mode, which reduces the rpms to 1,700.
"It doesn't take long for them to recognize that they're not losing any productivity with Eco mode on," Oliver says.
The reason: when the dozer encounters a heavier load, it automatically ramps up to muscle through it, and then returns to 1,700 rpms, a feature Deere says has the potential to save users up to 25 percent in fuel, depending on the application.
"In fact, customers asked us for the ability to lock Eco-Mode in, so an operator can't turn it off," Oliver says. "It's always on."
Configurations
The dozer can be ordered in several configurations, including single-shank and multi-shank rippers and a winch for pipeline applications. The tracks come in three widths, 24-, 26- and 28-inches, and can be ordered in a trapezoidal configuration as part of a waste handler package that will be available later in the year.
A semi-U blade (standard) or a full-U blade are currently available, and both types of blades can be outfitted with rock wear plates and a rock rack for added protection in rock applications. A mechanical angle blade will be available shortly, typically used by pipeline contractors to backfill a trench.
A hydraulic power pitch option let you to control the blade pitch from the cab, and programmable return-to-pitch settings allow operators to preset blade-pitch positions.
End bits, cutting edges, ripper teeth and shin guards are interchangeable with typical customer inventories.
Oliver explains Deere's emphasis on large with the 1050K: "In North America just 10 years ago, 65 percent of all dozers were utility dozers, under 130 horsepower. Now, once customers found they could take a grade control system and install them on larger machines, they could use them for the work they used to do with smaller machines. Because of that, this size class machine is growing significantly; we realized we needed to address this change."