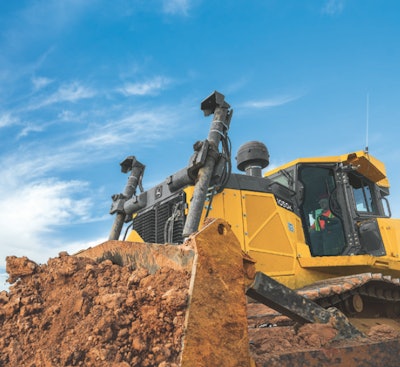 [imagebrowser id=177]
Opting instead to completely reimagine its largest crawler dozer rather than simply update it, John Deere has launched the 1050K, a machine the company calls its largest and most powerful dozer yet.
Deere redesigned the 1050K from the ground up and leaned heavily upon customer feedback throughout the years-long development of the machine. It's being manufactured at the company's Dubuque, Iowa, plant.
Specific customer requests honored in the dozer's new design are a lower hood and better view of the ripper from the cab. Deere says full dealer backing and parts availability was another big request from customers.
Weighing in at around 95,000 pounds, the 1050K is powered by a Tier 4 Final PowerTech diesel engine. The engine manufactures 350 horsepower and is paired with a dual-path hydrostatic transmission. Deere says the hydrostat gives the 1050K the ability, "to push a load through turns without losing material, unlike torque-converter transmissions on competitor machines."
Deere says the machine's Eco Mode can reduce fuel consumption up to 25 percent with no loss in productivity in many applications by automatically adjusting engine speed and transmission settings based on the load being pushed.
The machine also allows operators to set a maximum ground speed and the dozer will maintain peak engine RPM and power without stalling or shifting.
Deere notes that the machine also features "excellent" diesel exhaust fluid (DEF) economy.
The dozer features a sealed and lubricated undercarriage with oval-track design. The track design features a single wear-causing, forward-travel flex point. Mounted independent of the track frame and safe from shock loads are double-reduction planetary final drives.
The 1050K's cab features a suspension high-back seat that adjusts seven ways and was angled 15 degrees to achieve that improved ripper view. An updated LCD display provides at-a-glance diagnostics including temperature, pressure and speed.
Blade pitch can be controlled from within the cab and all of the machine's controls can be customized to individual operators.
Deere says the 1050K is "grade control ready," with adding a grade control system from Trimble, Topcon or Leica being as simple as plugging in the components. Alternatively, Deere will install a Topcon 3D-MC2 system at the factory.