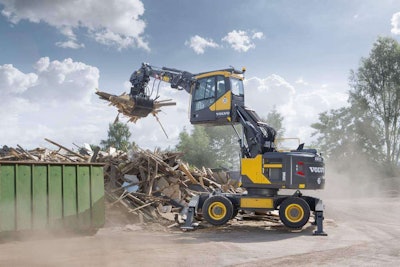 If you can't configure one of the company's latest wheeled excavators to your fit the demands of your jobsite, it isn't for a lack of trying on Volvo's end.
Boasting a broad swath of options and combinations, Volvo Construction Equipment has launched the EW160E and EW180E. Beyond configurability, Volvo designed the machines with a flare for multitasking as they're capable of carrying out just about any jobsite task you can throw at it.
The machines are powered by Volvo's D6J, the same Tier 4 Final engine found in their new EC220E crawler excavator. On the EW160E, the engine delivers 154 horsepower, while on the EW180E, it pushes 172 hp.
Lifting capacity on the EW160E is 13,669 pounds with a bucket breakout force of 28,326 lbs.-ft. The EW180E's capacity is 21,605 pounds with a breakout force of 30,574 lbs.-ft.
Catalog of configurations
When it comes to tailoring the machines to the demands of your jobsite, among all the options are:
Different arm lengths
12 different configurations of tires from 8 different suppliers
Optional hydraulic functions X1 breaker/shear and X3 tilt rotate
Attachments including buckets, breakers and grapples
Volvo promises quick attachment changes and says thanks to the machines' optional trailer hitch, capable of hauling up to 8.8 tons, you can road the excavators and bring the attachments along in tow. A drawer-style tool box slides from the undercarriage for easy storage and can carry up to 275 pounds of tools.
New, improved cab
Inside the ROPS cab, visibility has been improved (especially to the right side of the machines) through a larger windshield, while Volvo's Smart View camera system gives a real-time, overhead view of the machines during operation—much like Ford's parking assist system on the new F-150 (without the self-parking). Smart View makes rotating the machines on tight, or busy jobsites much safer.
Volvo says the machines' hydraulic system is more responsive than on previous machines and the Boom Suspension System allows faster travel over bumpy roads and rough terrain. Control of the machine is composed of joysticks, a keypad and an LCD monitor.
The machines feature ground-level, grouped together daily service points and feature automatic alerts upon startup if any fluid levels, including engine oil and hydraulic fluid, need attention.