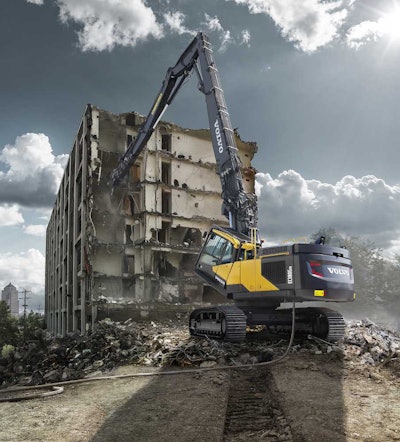 Using the show to introduce a pair of new demolition excavators, Volvo Construction Equipment president Martin Weissburg also took time to discuss a trend currently affecting equipment markets. During remarks made Tuesday, Weissburg said the company is "well-positioned" to ride what he called the "value" wave.
"We like this trend," he says. "We have three strong brands, with Volvo, SDLG and Terex Trucks, and even within the Volvo brand we are repositioning some products to have a higher value content."
Volvo's SDLG brand is the No. 1 exporter of Chinese wheel loaders and excavators combined, Weissburg says. The brand's launch in North America in 2013, using established Volvo dealers to market SDLG value-priced wheel loaders has been "a greater success than we anticipated," he comments.
These loaders are priced at 30-percent discount compared with premium machines, including Volvo. The company currently offers three sizes of loaders here, ranging from 2.4 to 4 cubic yards.
Despite its stated success in North America, Volvo says it has no present plans to offer SDLG loaders to European customers. "There's no time set," Weissburg says, "but we like the product and the potential."
Weissburg also reviewed Volvo's decision late last year to exit the Volvo-branded grader and backhoe markets in North America and Europe, and only sell the graders and backhoes as SDLG brands in less-regulated countries. These products will give Volvo a better price position in parts of Latin America and Southest Asia, he says.
Weissburg also used the podium to call the company's Terex Trucks acquisition a "welcome addition, with strong distribution that's in large part separated from Volvo distribution." He noted Volvo has "many years left using the Terex brand."
Volvo used its Intermat press conference to further delve into its Volvo Penta division. "Most people think of us as marine engines, but in reality that's only 50 percent of our market," says Bjorn Ingemanson, president, Volvo Penta. "The other half is our industrial side, which includes power generation, mining and material handling." The company offers engines to OEMs ranging from 5 liters to 16 liters.
High-reach demo excavators coming to North America
While much of what Volvo is showcasing at Intermat is either not slated for the North American market or has already been introduced, the company is using the show for a worldwide introduction of its 113,410-pound EC380EHR and 141,140-pound EC480EHR high-reach demolition excavators.
The excavators use a frame-mounted Falling Object Guard and safety windows to met demolition demands. Also on board are rear and side mounted cameras to give additional visibility. A micro-mesh screen on both the doors and engine cowl keeps out particles, and full-length track chain guards prevent sharp objects from lodging on the tracks. Providing additional protection is a guard that protects the swing ring bearing seal and grease piping from damage.
Demolition's dusty, dirty environment is addressed with Volvo's dust suppression system, which has a hydraulic lifting pump, eliminating the need for a separate solution. Four nozzles, two on each side of the arm, emit a fine mist that traps dust.
The cab tilt function is controlled by pressing buttons located on the joysticks, allowing operators to adjust the tilt up to a maximum of 30 degrees without taking their hands off the controls. In addition to the cameras mounted on the rear and the sides, there are two cameras mounted on the arm. Each camera angle can be viewed on an 8-inch monitor inside the cab. A total moment indicator warns if the machine is approaching the maximum safe working load.