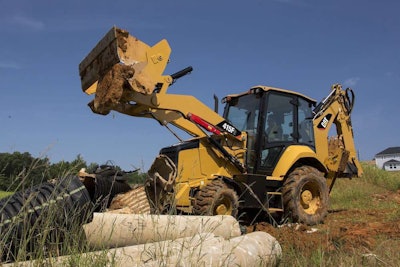 We first brought you the news of Caterpillar's new F2 series of backhoes from the World of Concrete in February. But recently we got a chance to take a closer look at these machines, in particular the new, low-spec Caterpillar 415F2.
What makes the 415F2 unique in the lineup is its stripped down, cost-conscious design. The low-spec models are making regular appearances in Cat's lineups these days. Last fall they showed us some value-priced compact excavators and wheel loaders at the company's Building Construction Products facility in Cary, North Carolina.
Physically, the frame of the 415F2 is the same as the 416F2 says Kevin Hershberger, senior marketing professional. Both are 14-foot dig depth machines. The only difference is that the 415 uses a Caterpillar C3.4B engine vs a C4.4 engine for the 416. Net horsepower for the 3.4-liter engine is about 74 horsepower (vs. 87 horsepower for the 416F2), but when it comes to the EPA's emissions regulations, that makes a world of difference.
Engines under 75 horsepower can meet their Tier 4 Final emissions targets without the need for diesel exhaust fluid (DEF) and selective catalytic reduction (SCR) hardware to cut exhaust emissions. "That's what really determined the horsepower setting below 75 gross horsepower," says Hershberger. "You can meet the emissions requirements without DEF. Tier 4 Final drove the timing of these machines, but they also come with a lot of new features."
Not having SCR brings the price down considerably. The smaller engine isn't as assertive in aggressive digging with the loader bucket or climbing steep hills. But on the backhoe end, "This machine can do everything the 416 can do and most of what the 420 can do," says Hershberger. "And it's going to burn a lot less fuel doing it."
The market for a low-spec backhoe includes rental outlets and municipal and other government fleets that must meet low-price bid specs. There are also a lot of large construction companies that fill their fleets with low-spec machines, as opposed to smaller companies and owner operators that often prefer the fully featured models.
The base model 415F2 comes with an air-ride seat and four-speed, synchromesh transmission—two-wheel drive. Everything else from that point up is an option, but there is a range of options including:
Heated air ride seat
Pilot operated joystick controls with in-cab pattern changers
Auxiliary hydraulics and an extendable stick
Enclosed cab with front fenders and integral steps
Four-wheel drive
Ride control
Dual lock quick couplers
Security system keypad
Reversible stabilizer pads
Boom protection plate
Although the pilot-operated controls are options, this is the first time Cat has offered them on a entry level backhoe. With these you eliminate the wobble sticks on the backhoe end, giving you more foot and knee space in that end of the cab.
In the hydraulic system a load sensing variable displacement pumps help maximize hydraulic digging and lifting power while helping conserve fuel.
Cat also noted that in mid-2015 they will be releasing "myBHLapp" a telematics system that allows you download to a mobile device via Bluetooth information about your backhoe such as fuel use, maintenance schedules and data and diagnostic and error codes.