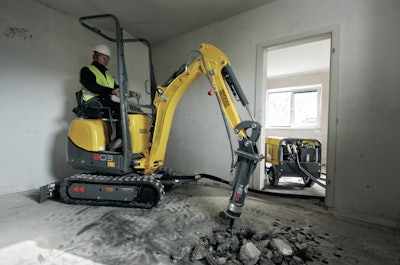 [imagebrowser id=247]
Wacker Neuson is using Intermat to promote its two-year-old ECO seal, which is now on several products making their way to North America, most notably the 2015 Intermat Innovation gold winner, the 803 dual-power compact excavator.
The 803 is designed to be operated as either a diesel-powered unit for typical jobs, or can be powered by the HPU8 external electro-hydraulic power unit. Attached to the HPU8 with hoses, the 803 operates by electric power, and has zero emissions, with no performance downgrades.
To transport the HPUB along with the 803, two openings are embedded in the excavator's dozer blade, which allows the HPUB to be suspended for transport and easily drive through doorways. Once settled into the work area, the HPUB is connected to the 803's undercarriage via a "plug and play" port to power the unit and also allows the excavator's upper carriage to swing freely.
Other products with the ECO seal include the battery-operated WL20e wheel loader, which operates for up to 5 hours continuously using two electric motors, one for the drive system and one for the hydraulics. This gives the loader up 40 43 percent less carbon dioxide emissions, and reduces noise by up to 50 percent that of a diesel engine.
The AS 30 and AS 50 battery-powered rammers, designed for work in trenchers and indoors, also allow work close to walls since there are no diesel fumes to smudge surfaces. Wacker estimates operators can save up to 55 percent in operating costs with the rammers, since there are no carburetor repairs required. The company also estimates users will save another 55 percent in energy costs. The lithium iron batteries for both machines easily slip out of the upper structure for swapping with recharged batteries.
Continuous growth
"Wacker Neuson has been continuously growing since 2010, and our compact equipment division saw a 14 percent growth between 2013 and 2014, says Dieter Freisler, regional president for Wacker Neuson in Europe. "We expect to grow between 9 to 13 percent this year. We find America is coming back: they are really in a good mood."
All this growth has the company looking to invest, and Freisler says the company says there are "opportunities for mergers and acquisitions, especially in our core segments."