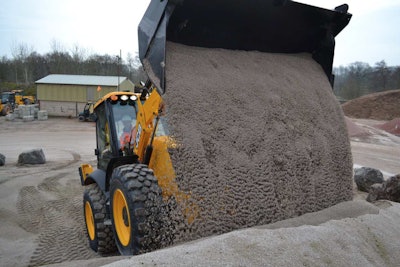 During a Monday evening press conference at the Intermat show in Paris, Michelin introduced two new construction equipment tires, one aimed at supporting heavier loads and another at providing better traction and longer life on hard surfaces.
The Michelin XTXL E4 L4 is a loader tire which beefs up productivity capabilities in big ways over its predecessor, the XLDD1. Launching at the end of the summer, the new tire features what Michelin calls B2 technology, which reduces rim slip with a new bead architecture that is 30 percent wider.
But the main improvement with this tire is just how much stronger it is. The sidewalls on the XTXL are 50-percent thicker than its predecessor and it boasts a 40-percent increased metal mass. Thanks to this reinforcement from more steel cable, damage is 20-percent less likely to occur on the tread and 10-percent less likely on the sidewall.
Load capacity has also seen a considerable increase with the XTXL, up 15 percent to nearly 36 tons for the 35/65 R33 tire size. And with the lack of rim slip, operators can now get 20-percent more torque transmission for a big boost in efficiency.
In addition to the 35/65 R33 tire size, the XTXL will be available in the following sizes: 26.5 R 25 and 29.5 R 25.
Michelin also launched new sizes of its Bibload Hard Surface tire. Launched last year for telehandlers, Michelin now offers models for backhoe loaders, telehandlers and compact loaders.
The defining characteristic of the Bibload tire are its diamond-shaped tread blocks at the center of its tread. These blocks allow the tire to grip the road more consistently between the center of the tire and the shoulder. The design provides better traction on roads and hard surfaces no matter if they are wet or greasy. Michelin says the tread design and its consistent ground contact also improves operator comfort by reducing pounding and vibrations.