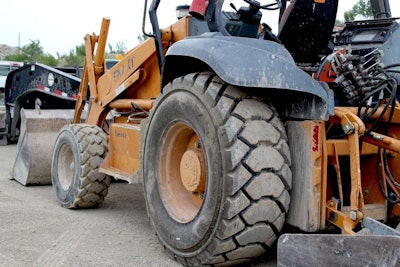 When is a dually not a dually? The traditional four-per-axle/two per side tire arrangement can be seen on everything from one ton trucks to 18 wheelers in the United States. But they do have some drawbacks.
If a rock or debris get stuck between two tires, it's murder to get them cleaned out. If one of the inside tires goes flat you have to pull both of them.
The Alliance Tire Group (Alliance and Galaxy tires) showed us a couple of dually-like solutions for wheeled excavators and forestry machines at Intermat Tuesday. And while company officials noted these would not work on highway trucks (too much speed and heat), a guy can't help but wonder.
506 Dual Master
The 506 Dual Master excavator tire looks almost like a dually.
There are two distinct, mirror-image tread patterns until you look close. It's actually one contiguous tire, and one air chamber across the width of the tire, but it has a rubber web spanning a low spot in the middle that links the two pieces.
This all-steel radial design comes in a 315/80R22.5 size and two tread patterns: on/off road or pattern 528 for moderate traction.
The continuous ring of rubber gives you the floatation of a dually but means you'll never get anything stuck between them or need to install a rubber ring between two tires to keep debris out.
344 Heavy Duty tire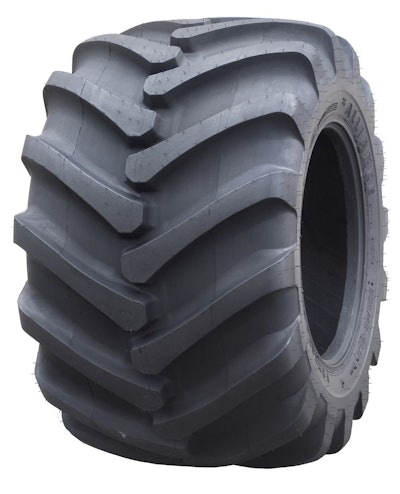 The second big tire is the 344 Heavy Duty tire, a bias-ply tire designed for loaders in agriculture and forestry applications.
Likewise, this is a high-flotation tire measuring 750/55-26.5 and has massive shoulders and steel reinforced carcass and a reinforced sidewall. It is designed for excavators, loaders and dumpers.
A reinforced bead helps protect against air leaks and the tread patterns are further apart at the edges, for good clean-out characteristics, and closer together towards the center to resist punctures and improve rolling resistance on hard surfaces.
Galaxy Jumbo Hulk
For backhoe loaders and industrial tractors the new Galaxy Jumbo Hulk tires come in four sizes: 19.5L-24, 18.4-26, 16.9-28 and 16.9-30.
The Jumbo Hulk's L-4 tread pattern was designed for severe operating conditions and features deep tread for maximizing traction and self-cleaning properties with a high solid to void ratio and cut and puncture resistant rubber compounding.
Galaxy Trac Star ND
For backhoe front tires and skid steer tires is the new Galaxy Trac Star ND L-4 tires are available in sizes 10-16.5 and 12-16.5. Their non-directional tread pattern improves traction going forward or backward while the rounded shoulders are turf friendly. In addition, the shoulder blocks are aligned on the circumference, thus providing even wear, stability and a large footprint.
Galaxy Beefy Baby SDS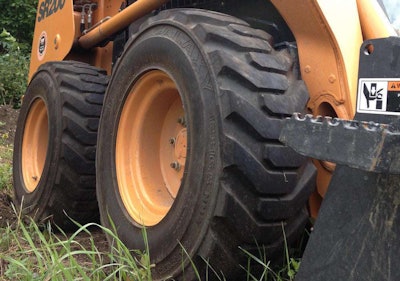 ATG's Galaxy Beefy Baby SDS is a new solid tire that's made from wear and cut resistant rubber. In addition to being flat-proof the solid rubber composition of the Beefy Baby tires make them more stable and able to carry heavier loads.
Mounting is easy as tyres are pressed onto the rim. Beefy Baby SDS tires s are available in sizes 10-16.5/31×10-20 and 12-16.5/33×10-20, with and without apertures.
And, in case you were wondering, the names Jumbo Hulk, Trac Star and Beefy Baby names were created for the North American market, which prefers something a little flashier than mere numbers, says the company's European president Peter Baur.
Take that Ricky Bobby.