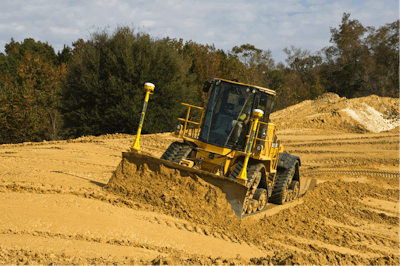 GPS grade control systems can only go as fast as the machine's receivers can process the signals and hydraulic valves react. Trimble has improved this situation with it's new GradeMax Plus technology for dozers.
Used in the Trimble GCS900, GradeMax Plus employs an inertial measurement sensor to detect the rate of acceleration and changes in orientation of the machine.
The new technology also increases the rate at which the GCS900 system drives the hydraulic valves on dozers. This results in more consistent control and rapid recovery of the blade. You can rotate the blade on steep slopes while maintaining constant grading speeds and grade faster and more consistently with better accuracy.
On the compaction side, Trimble's CCS900 version 12.7 uses wireless machine-to-machine communication to share mapping data between two compactors on the same site in real time.
A Trimble SNM940 Connected Site Gateway telematics device links the two compactors. Operators can view the lifts other compactors are working on and avoid over-compaction. In addition to improving surface quality, the elimination of this redundant compaction also saves fuel and time.