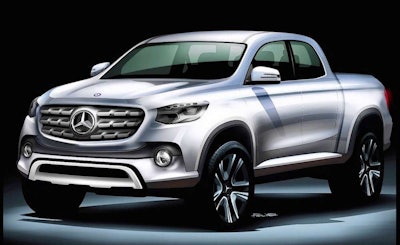 Just in case the recent announcement of a "midsize truck," wasn't a clear enough declaration, with one sentence during an interview with Car, Daimler's chief of commercial vehicles has made Mercedes-Benz's intentions in developing its first pickup truck crystal clear.
"We are not going to develop a fat cowboy truck for North America," Daimler's Volker Mornhinweg told the magazine. "…Modern pick-ups are becoming increasingly car-like. We shall take account of this trend by offering a wide choice of drivetrains as well as three different equipment levels provisionally labelled workhorse, dual use and leisure and family."
Since the truck is aimed primarily at global markets, the statement definitely doesn't add much in the way of confidence about whether the truck will ever head stateside. However, it's also possible that rather than dismissing the American pickup market entirely, Mornhinweg is making more of a concession that Mercedes has no business attempting to disrupt the half-ton and heavy duty markets, specifically.
"After all, the big three—Ford, GM/GMC and Ram—already own about 90 percent of that market which typically absorbs in excess of 2 million units per year," he continued. "In this cut-throat environment, newcomers like us would invariably fight an arduous uphill battle. That's why our focus is on a smaller and lighter pick-up truck which is already perceived as premium product in South America, Africa and the Middle East."
As we reported earlier, the pickup will be built by Mercedes' Vans division in partnership with Nissan. The truck, which Car is calling the GLT, will be built atop the same frame as the Nissan Navara/Frontier. Nissan will also handle manufacturing. It's expected to launch by 2020.
Car adds GLT customers will have the option of a four- or six-cylinder engine paired with either a six-speed manual or seven-speed automatic transmission. They'll also be able to opt for an independent suspension or Mercedes' 4Matic AWD over the standard live rear axle.
So what can customers expect from the GLT? Mornhinweg said the experience will "exceed typical pickup standards," and will offer best-in-class rear seating.
"We shall give them exactly what they ask for: impeccable fit and finish, top-notch safety and comfort, excellent vehicle dynamics and state-of-the-art connectivity. Yes, our vehicle looks plain and simple. But it is highly functional," he said.