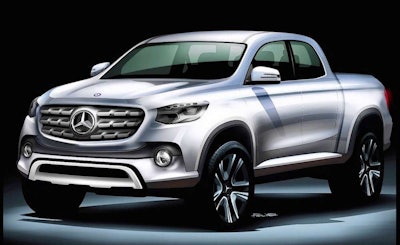 Just when we thought Ford's F-150 Platinum, GMC's Sierra Denali and Ram's Laramie editions were the top of the luxury truck rock as one could get, along comes Mercedes announcing they are entering the pickup market.
Those lads across the pond that have given us wonderful German luxury cars, M-Class SUVs, and the Sprinter vans now want a piece of the pickup market.
Unfortunately, Mercedes isn't targeting our beloved full-size pickups or even the U.S. market. At least not yet. Instead, they have announced the launch of a midsized pickup in the next five years initially focusing sales to customers in other global markets including Australia, Europe, Latin America and South Africa.
Mercedes said the new midsize pickup will be built by its Vans division. And according to a report from the Wall Street Journal, the division is partnering with Nissan to build the truck on the frame of the Navara—or as we know it here in the U.S., the Frontier.
The WSJ adds that two Nissan factories will manufacture the truck.
So does this mean this Mercedes pickup won't hit our shores? Don't count them out.
Think about it. The top three best-selling vehicles in the United States in 2014 were 1/2-ton pickups: Ford's F-150, Chevy's Silverado 1500 and Ram's 1500. And now GM has re-entered the midsize market with the Colorado and Canyon to great critical acclaim.
If the Colorado and Canyon catch fire with customers don't be surprised to see the Mercedes pickup hit U.S. dealerships.