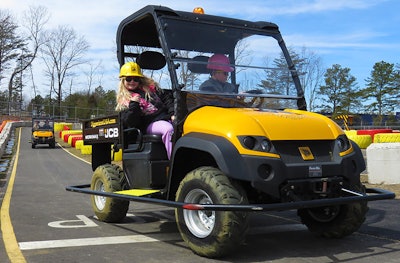 Making good on its promise to continue adding new heavy equipment for patrons to get behind the controls of, Diggerland USA, the country's first and only construction equipment theme park, has added a fleet of JCB utility terrain vehicles to its lineup of attractions.
RELATED: Inside Diggerland USA: First look at the rides of the nation's first construction theme park
The 24th attraction at the park, JCB's WorkMax 800 is a 4×4 UTV with powered by a 20-horsepower Yanmar diesel engine. It has a top speed of 25 miles per hour, perfect for letting the whole family get a feel for driving one of these small but capable trucks.
The park, which opened its doors last May, recently began its second year of operation. Located in West Berlin, New Jersey, Diggerland USA is open every day through April 12 for Spring Break from 11 a.m. to 6 p.m.. You can buy tickets and plan your trip at the park's website.