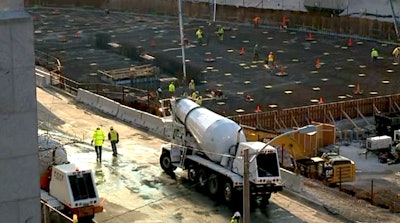 Workers with C.G. Schmidt and Choice Construction, among other contractors, have completed what they claim is the largest continuous concrete pour in Wisconsin state history.
According to a report from WITI TV, 250 workers and 50 cement trucks took part in a 27-hour concrete pour for the foundation of the 32-story Northwestern Mutual Tower and Commons area in downtown Milwaukee.
The pour required 10,000 cubic yards of concrete, enough to fill a football field 5 feet deep, the station reports.
Choice Construction workers were on the clock 12 hours a day, seven days a week for four weeks in order to lay the 1,200 tons of steel for foundation.
The $450 million project is expected to be completed by the end of 2017. The project has been a major boon to the Milwaukee construction industry. In October, Northwestern Mutual began a search for 1,000 construction workers, committing to hire no less than 40 percent from the Milwaukee area.
And while the Milwaukee job is impressive, it pales in comparison to the feat of the crew which hold's the Guinness World Record for the largest continuous pour. In February 2014, a Los Angeles crew poured 21,200 cubic yards of concrete over a period of only 18-1/2 hours.