[imagebrowser id=204]
"We're calling 2015 the year of the launch," says Alan Loux, vice president of global marketing for JLG Industries. "We've got more new and redesigned products coming out than at any time in our history."
JLG used The Rental Show this week to put some weight behind these words throughout its telehandler and aerial lift lines.
Telehandlers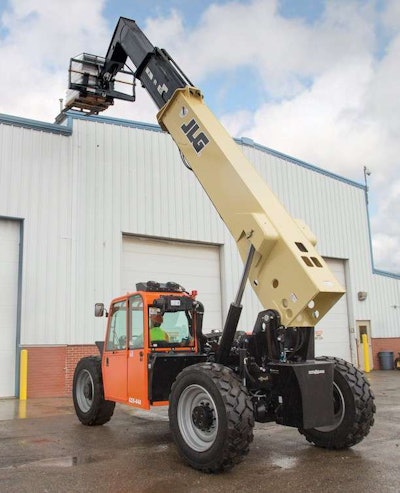 The G15-44A telehandler is now the largest in the JLG line, with 15,000 pounds of capacity and a 31-foot horizontal reach.
Powered by a 130-horsepower Cummins Tier 4 Interim Cummins 4.5-liter engine, the machine has an 18-inch ground clearance, 20-mph maximum travel speed and 61-second boom cycle time. JLG says it has the tightest outside turning radius and lowest gross vehicle weight in its class.
In addition, several other models in the company's telehandler line have undergone what the company calls a "complete redesign," with five new models ranging from it 6,000-pound capacity, 42-foot reach Model 642 to its 12,000-pound, 55-foot-reach Model 1255. Inside the cab, a single joystick controller operates boom lift and telescope as well as declutch/transmission neutral and carriage tilt functions.
The use of a single compensation and lift cylinder improves sight lines and reduces the number of parts. The external telescope cylinder is now mounted on the top of the boom, which both helps protect it and makes it easier to service. A rear axle stabilization system automatically switches the machine from a 3-point stance to a 4-point stance.
The company's SkyTrak models have also gone through major upgrades, including a new color scheme and detail. Powered by Tier 4 Final Cummins QSF 3.8-liter engines, the five-model line up also has a multi-function single joystick in addition to a redesigned dash panel. Models in the line range from the 6,000-pound maximum lift capacity, 36-foot maximum lift height Model 6063, to the 10,000-pound-capacity, 54-foot Model 1054.
Aerial lifts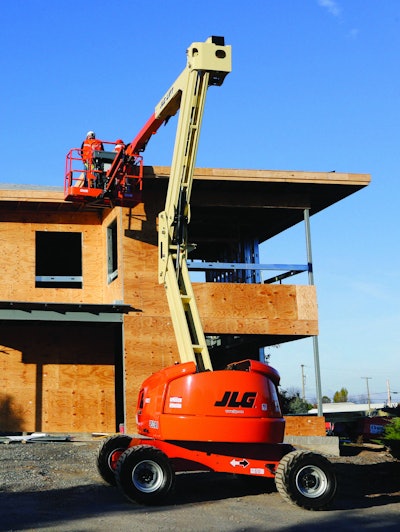 JLG used the show to introduce three new aerial lifts: the 400S and 460SJ telescopic boom models and the 450AJ articulating boom lift. Due in part to streamlined hose routing, the models use up to 40 percent fewer hydraulic hoses, meaning maintenance personnel spend less time chasing hydraulic leaks.
JLG says it is also using what it calls a "Dura Tough" polymer for its hoods, which the company says won't ding like steel and is not as brittle as the common thermoplastic ABS.
The 600-pound platform capacity 400S reaches 40 feet and has a 46-foot working height. The model has a 33-foot horizontal outreach (35-foot working outreach). Also with a 600-pound platform capacity, the 52-foot working height 460SJ has a 46-foot platform height, with a jib for additional up-and-over maneuverability.
The 450AJ articulating boom has 550 pounds of unrestricted platform capacity and a 45-foot platform height with a jib.
The company also expanded its scissor lift line with the 53-foot rough-terrain 539RT, featuring steel hoods and auto-leveling outriggers and using a 4-foot multi-position roll out platform extension.