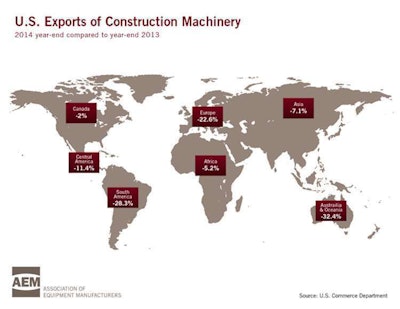 Exports of construction equipment made in the U.S. fell are down 13.2 percent in 2014, according to an Association of Equipment Manufacturers analysis of Commerce Department data.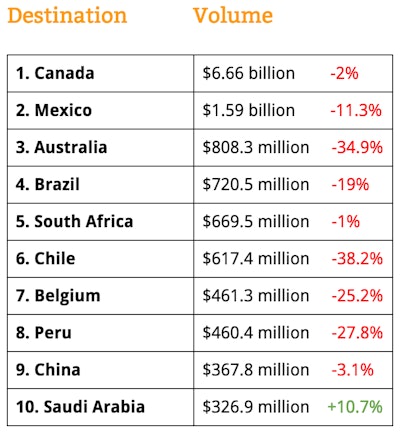 Construction equipment exports fell to $17.26 billion during the year with decreases in shipments to all world regions.
U.S. exports of construction machines have fallen for eight consecutive quarters.
You can view the top 10 countries for equipment exports in the chart to the right.
AEM notes that though exports have been down, imports have begun trending higher, as the U.S. market "has become one of the more robust growth engines for the industry."
Canada led all regions with a total of $6.66 billion in shipped machines, down 2 percent for the year, while shipments to South American fell 28.3 percent to $2.57 billion. Exports to Asia and Europe both came in at $1.98 billion, falling 7.1 percent and 22.6 percent, respectively.
Central American exports came in at $1.95 billion, a decrease of 11.4 percent while shipments to Africa fell 5.2 percent to $1.23 billion. Once more, Australia/Oceania exports saw the largest percent decrease falling 32.4 percent to $889.5 million.