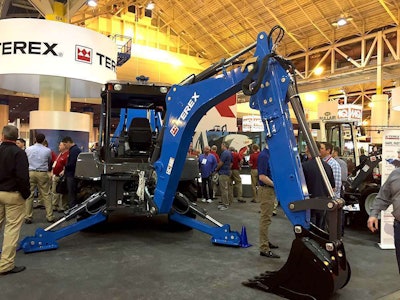 [imagebrowser id=203]
"The TLB840R is the crown jewel of our show," said Aron Sweeney, marketing manager, North America for Terex Construction, speaking from the company's booth at The Rental Show this week.
When rental customers asked for a low acquisition cost backhoe, Terex took their TLB840 model, and using the same chassis and basic structure and made several changes to reduce cost by about 20 percent, compared with the full featured 840, including:
Smaller front tires
A basic cab, with a reworked front dash that doesn't have all the switches or the LCD display of the 840
A 74-horsepower Deutz Tier 4 Final engine, requiring only a diesel oxidation catalyst instead of a more expensive diesel particulate filter
"Because rental rates are driven by equipment acquisition costs and utilization, we focused on a product that would be competitively prices without sacrificing quality and features … at a price point that drives return on investment for our customers," says Gary Dennis, vice president and general manager, Terex Construction Americas and Global Aftermarket.
"This will do about 95 percent of what the 840 did," says Jon Beckley, global product manager, Terex Construction. "The boom and dipper are exactly the same." The 14-foot-9-inch dig depth machine has a 9,441-pound-foot bucket breakout force, a loader lift capacity of 7,291 pound feet and a 1-cubic yard bucket capacity.
Terex has had units out in field testing in rental fleets for around nine months with favorable reports, Beckley adds. The former TLB840, introduced in 2010, is no longer available in the United States. Terex manufacturers its backhoes in Coventry, England.
"This is a change in our branding as well," Beckley says, with the backhoe offered in both traditional white and Genie blue, to tie into the company's Genie aerial work platform and telehandler lines, both strong in the rental market. (Terex did note to date, however, that all backhoes ordered have been in white.)
Standard specs include four-wheel drive, a tilt steering wheel, suspension seat and selectable pattern change pilot controls, and can come with either a canopy or a heated and air conditioned cab.