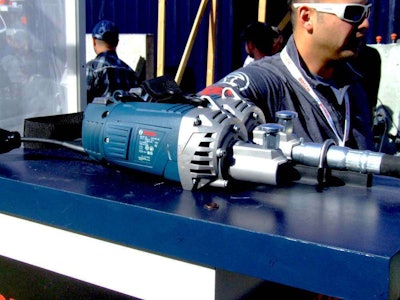 The Bosch CV300 Concrete Vibrator reaches roughly 5,000 vibrations per minute (VPM) more than competitive tools, allowing for smooth and efficient operation at 20,000 VPM.
The CV300 was on display at World of Concrete in Las Vegas.
Designed for large-scale pouring such as deep vertical walls, the CV300's high-performance motor can withstand load over long periods, with a fatigue-reducing power-to-weight ratio.
Other features include a click system for speedy shaft exchange, a GCFI breaker on the cord, and a security fuse in the housing.
Shaft lengths offered:
4-1/2-feet, 10-1/2-feet, 13 ½-feet
Head diameters available: 
1-3/8 inches and 2-1/8 inches