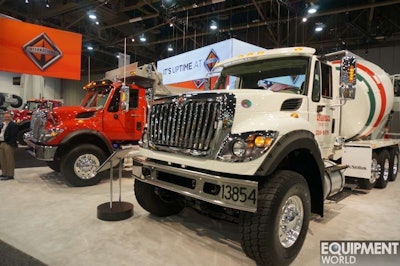 At World of Concrete, Navistar has announced that its WorkStar vocational truck will soon get the Cummins ISB6.7 as an engine option.
You can order a WorkStar with the 6.7-liter Cummins now and production will begin in the spring. The engine is rated at 325 horsepower and 750 lb.-ft. of torque with higher ratings available for fire and emergency applications.
The move expands upon International's offering of its own proprietary 9.3-liter and 13-liter engines for the truck. Those engines use Exhaust Gas Recirculation (EGR) to reduce emissions rather than the Selective Catalytic Reduction (SCR) emissions after treatment technology the Cummins uses.
"Adding the market-accepted Cummins ISB6.7 to our vocational line-up is a key part of our strategy to offer our customers the most comprehensive options of proven components in the industry," said Navistar Truck and Parts president Bill Kozek.
The WorkStar is the second International truck to receive the ISB6.7. The DuraStar got the option in 2013.
The WorkStar is on display this week at World of Concrete, The truck is built on the same platform as the International MaxPro MRAP, the mine resistant armored truck used by the U.S. military.