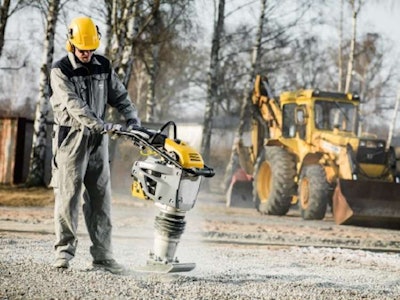 Atlas Copco launched the LT5005 and LT6005 concrete rammers at the show, featuring ultra-slim bodies and narrower handles.
Designed for use close to buildings and in narrow spaces, the units have a specially designed Honda engine, the 3.5-horsepower four-stroke GXR120. The rammers also have a three-lever throttle control for stop/idle/run functions, a redesigned fuel tank and an engine oil level indicator.
Designed to also handle silt, sand, gravel and clay, the rammers have a standard 6-inch and 11-inch foot respectively. A new round filter, which can be replaced without using tools, is larger than the previous series of rammers.
The LT5005 and LT6005 have operating weights of 134 and 154 pounds, respectively, 12 Hz frequency and 54 and 68 mm amplitude. The gas-powered units have a sound level at the operator's ear of 92 dB(A).
New trowel line to launch at rental show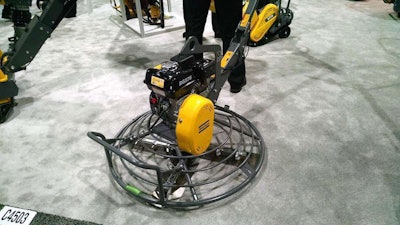 Show attendees also got a preview of Atlas Copco's new BG375 trowel line, set to launch at the ARA Rental show, scheduled for February 22-25 in New Orleans.
Darrell Engle, product development specialist for Atlas Copco, said the line reflects what their customers want. "Our older line of trowels had a manual clutch, and our market research indicated our customers wanted a centrifugal clutch." The trowel, which Engle said he feels customers will find more user friendly, will be available in 24-, 36- and 46-inch models, and will be available in both Essential and Premium lines, featuring Vanguard and Honda engines, respectively.
Later this year, Atlas Copco is set to release a wagon spreader for concrete, as well as an articulating trench roller.