[imagebrowser id=184]
Mack has announced a "hardened," yet still lightweight version of its mDrive automated manual transmission designed specifically for the rigors and varied terrains of construction work.
During a press event at the World of Concrete trade show in Las Vegas Tuesday, Mack took the wraps off the mDrive HD.
Stephen Roy, Mack's president of North American sales and marketing, said the company's construction customers had requested a heavy-duty version of the mDrive which went standard on Mack's Pinnacle highway model last year.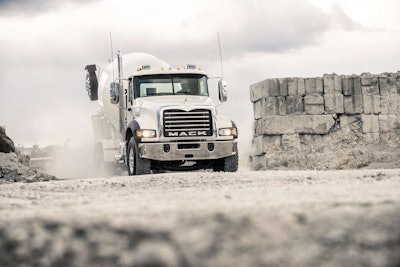 The mDrive HD will be available for order in March. The transmission will also become standard on Granite models in March.
"We believe the best product should be standard," Roy said. "We see the mDrive HD being a game changer in vocational."
Mack says it took the original mDrive and reinforced internal components such as the gears and synchros in order to withstand more frequent shifting. Despite the "Heavy Duty" suffix on this new mDrive, Mack says the transmission is lightweight, weighing in 237 pounds lighter than the Allison 4500 RDS and 191 pounds lighter than the Eaton UltraShift Plus.
The mDrive HD is fully integrated and works exclusively with Mack's MP7 and MP8 engines. It features 12 forward speeds and two reverse and is available in direct and overdrive. Several factory-installed PTO drive and pump options are available.
Since the transmission has an automated clutch, there's no need for a clutch pedal or shifting, something that should go a long way in relieving driver fatigue, said Mack product manager Stu Russoli.
"Construction vehicles are basically local vehicles making several back and forth trips. That's hundreds of shifts per day," he said. "If you take away those shifts you have lower driver fatigue, easier operation and higher driver attraction and retention."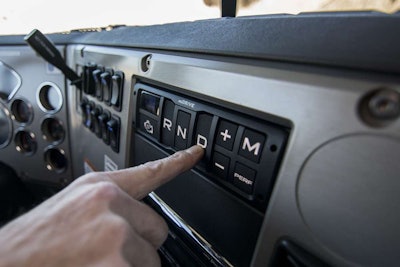 The transmission's computer-controlled shift strategy is a bit more aggressive in the mDrive HD. It can sense road terrain, making changes between on- and off-road jobs, while also monitoring changes in grade, vehicle speed, throttle speed, throttle position, acceleration, torque demand and gross vehicle rate.
Based on all of that data, the transmission chooses the best gear, relieving operators of that duty. Mack says this should boost safety on jobsites and because the shifting is more consistent than most manual operation, fuel efficiency is improved.
And when operators need manual control, the transmission can be operated through a set of buttons on the dash of the truck called the shift pad. Beyond putting the truck in drive, neutral and reverse, a press of the shift pad's Manual button holds the current gear and then allows up- and downshifting through the + and – buttons.
The transmission also has a feature called Rock Free that allows the operator to free the truck when it becomes stuck by rocking it back and forth by pumping the accelerator. Another feature called Grade Gripper allows the truck to hold a hill a few seconds after the brake pedal is depressed in order to give an operator time to move his/her foot to the accelerator pedal without the truck rolling backward.