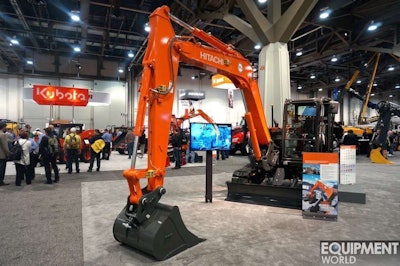 [imagebrowser id=182]
Ultra-short may not be an advantage in basketball, but that's what Hitachi says gives its new series of excavators, including the ZX85USB-5, distinct advantages.
Hitachi showcased the ZX85USB-5 here at World of Concrete in Las Vegas. The 18,821-pound machine has 56.9 horsepower and a max digging depth of 14 feet, 10 inches.
There are three other excavators in the line. Each one features parallel digging with independent swing boom, two work modes, and fuel efficient Tier 4 Final engines. The parallel digging feature allows you to get in tight and dig flush with walls, curbs buildings, barriers and other structures.
To reduce downtime the new excavators have minimized maintenance and extended fluid change intervals and ground level access.
Optional rubber pads are available in a variety of track widths for work on paved surfaces. The new Ultra-short excavators also have roomy cabs with LCD monitors and fingertip controls.