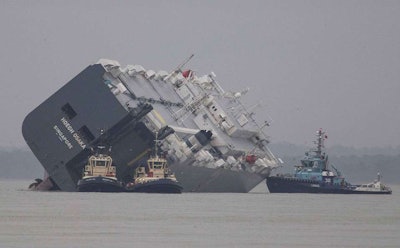 More than 100 JCB machines worth millions of dollars are in jeopardy of being lost after a cargo ship ran aground and nearly tipped over on a small bank near the Isle of Wight in England.
According to the BBC, the Hoegh Osaka began listing shortly after leaving the port of Southampton January 3. About 90 minutes later, the 56,000-ton ship was intentionally run aground by the crew on Bramble Bank and is now listing at a 45-degree angle. Only one crew member of the 25 aboard was injured.
The ship was passing through the Solent, a heavily-traveled shipping route that separates the Isle of Wight from England's mainland. In addition to the JCB machines, 1,400 cars are on board, many of them luxury brands. The BBC reports that the cars had been well strapped down and had likely not moved. The heavy machinery on the other hand, did move when the boat tipped which could mean thousands of dollars in damage.
JCB told International Construction that the ship was carrying excavators, wheel loaders, backhoes, Loadall telehandlers and Teletruk forklifts. The machines were being shipped to dealers in the Middle East.
Captain Nicholas Sloane, the man who oversaw the salvage of the Costa Concordia cruise ship that wrecked and overturned in 2012, has been tasked with salvaging the cargo of the Hoegh Osaka. Sloane called the next 24 hours "critical," warning that the sand on the bank could erode further, causing the ship to tip even more.