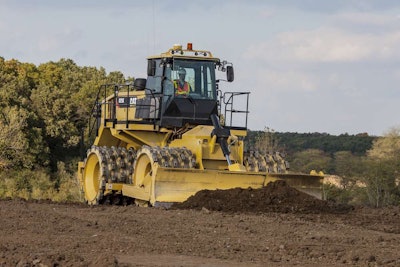 [imagebrowser id=149]
The Cat 825K soil compactor is the first four-drum soil compactor with an intelligent compaction system option, says John Thomas, with Caterpillar's construction technology and solutions group. The 825K now incorporates Caterpillar's Machine Drive Power (MDP) system, which measures the soil's load-bearing strength to assess the degree of compaction, sensing the rolling resistance of the material.
MDP is part of the Cat Compaction Control system, which includes mapping capability, allowing operators to easily monitor the compaction process. Cat says operators can quickly establish the MDP target value that matches the compaction specification, and then by viewing the MDP monitor in the cab, assess how compaction is progressing. Compaction data can also be downloaded or wirelessly transmitted to Cat's VisionLink system, for analysis and reporting.
"This tells you in real time whether the soil underneath the machine is compacted," Thomas says. Coupled with GPS, the intelligent compaction system uses a color coded map displayed on a monitor in the cab, to quickly see if you've reached values. And in a feature that will be introduced next year, customers with ProductLink will be able to get this information directly off the machine.
"Cat Compaction Control is free for the first 100 hours, which allows our customers to try it out," says DeCarlos James, senior sales support specialist.
The 825K replaces the 825H, adding heft with its maximum operating weight of 78,326 pounds and 405-horsepower Cat C15 Tier 4 Final engine.
"One of the keys in high volume compaction applications is to be able to compact quickly and cover a lot of area," says Neil LeBlanc, Cat marketing manager for soil compactors.  "For that reason, the 825K can go 10-plus mph in forward and 11 mph in reverse."  The 3F/3R Cat power-shift transmission has Single Clutch Speed Shifting, which helps maintain torque flow during gear changes, beneficial on uphill grades.
"The dozer blade allows you to fill in some areas on the fly rather than bringing in a dozer to reposition material, which also allows for faster turnaround," LeBlanc says.
Because Tier 4 Final components required the machine to have more height, the exhaust pipe can be unbolted and taken down, so no special permits are required to transport the unit. The GPS beacon is also removable before transport.
All new on the 825K is the cab, where the Cat STIC, or Steering and Transmission Control system puts all the machine's controls in the operator's left hand.  The electro-hydraulic implement-control joystick gives proportional response and has electronically controlled cylinder stops and soft detents.
The entire left control console raises up out of the way, allowing easy entrance/exit. The cab can be entered via stairways on either side of the machine. Optional rear view cameras and standard cab-mounted LED warning strobes enhance safety.
A ground-level service center gives everyone access to an electrical disconnect, emergency shutdown switch and stairway light switch.