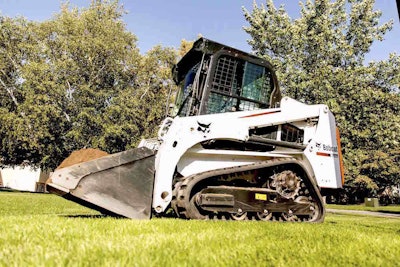 Bobcat has added the S450 skid-steer loader and T450 compact track loader to the company's M-Series line, bringing the total number of M-Series models offered to 11 skid steers and 8 compact track loaders.
S450 skid steer
Replacing the K-Series S130, the 49-horsepower S450 delivers a 20-percent increase in auxiliary hydraulic pressure and features a non-DPF Tier 4 engine solution. The 1.8-liter ultra-low particulate combustion (ULPC) engine has a specially designed engine combustion chamber that reduces the amount of particulate matter, eliminating the need for a DPF while still boosting the machine's torque over a wide range of engine rpm.
The S450, which has a radius-lift path, has a 1,300-pound operating capacity, 16.7-gpm auxiliary hydraulic flow and 3,300-psi auxiliary hydraulic pressure, which delivers a 22-percent increase in attachment performance. The lift height to hinge pin is 9 feet 2 inches, and the machine weighs 5,027 pounds. The length with a standard bucket is 124.9 inches and the width with bucket is 62 inches. The S450 also has an optional two-speed drive with a top speed of 6.5 mph in low and 9.2 mph in high when equipped with optional selectable joystick controls. The hydraulic filter lasts up to 1,000 hours, which is 500 hours longer than its predecessor.
T450 compact track loader
Citing high customer demand for compact track loaders in the 400 frame size, Bobcat reintroduced a compact track loader size unavailable until the launch of the T450. Suited for working on tight jobsites, the T450 features a width of just 56 inches with a bucket, and delivers a 4.7-psi ground pressure.
The radius-lift unit features a 2.4-liter non-DPF engine that reduces particulate matter via the ULPC system. Available for the first time in a Bobcat CTL this size is the two-speed drive system, which provides a 7.3 mph max speed in low and 11 mph in high range.
The 61-horsepower T450 is a 25-percent horsepower increase over the previous model, and offers faster dump and rollback cycle times, paired with higher lift and tilt cylinder forces. The unit has a 1,400-pound rated operating capacity at 35 percent of tip, and a 2,000-pound ROC at 50 percent of tip. The 6,148-pound T450 has a lift height to hinge pin of 9 feet 2 inches, a 16.7-gpm auxiliary hydraulic flow and a 3,330-psi auxiliary hydraulic pressure. The length of the machine, with a standard bucket, is 56 inches, with a 77.8-inch height.
User-friendly features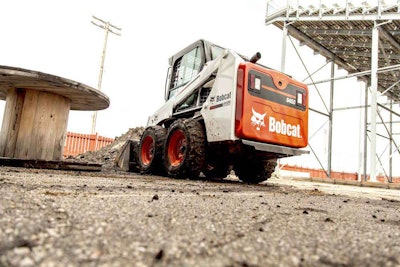 Both the S450 and the T450 include standard machine shutdown protection, and the system monitors coolant and oil temperatures, managing the engine to prevent reaching a shutdown point. Cold weather protection limits the maximum engine speed preventing premature component wear or failure. To reach operating temperature more quickly, engine idle speed is raised slightly.
The hydraulically powered SmartFAN cooling system draws clean air from above and directs it out through side vents. Additional improvements include a rear bumper that extends past the tailgate to protect the machine from obstacles.
Options for the skid steer and compact track loader include air conditioning, keyless start and an optional deluxe instrumentation panel that monitors key loader functions such as fuel consumption.
Both machines feature comfortable cabs that include large cab doors for ease of entry, windows that provide better visibility than previous models and easy-to-read LCD screens.