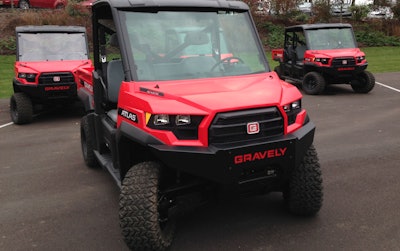 [imagebrowser id=139]
Gravely has created a new segment for off-road vehicles with the release of their new Atlas jobsite vehicle (JSV).
To set itself apart from utility vehicles (UTVs), Gravely's Atlas is a heavy-duty, commercial vehicle targeted toward contractors and other professionals.
"It's made specifically for the jobsite — from the engine to the features," says Bill Engler, director of sales, commercial. "It's tailored to the contractors on the jobsite."
One factor he says that helps the JSV stand out is its payload: It has a 1,900-pound payload and 2,000-pound towing capacity.
Comfort was another important aspect when creating the vehicle. The cabs are roomy, and each passenger has their own seat belt—even the passenger in the middle seat.
For carrying materials and equipment, the JSV's fabricated steel cargo bed has a 1,250-pound capacity. An electric bed lift comes standard, so crews can dump cargo by pressing a button in the cab. The bed also has four tie-down points, steel walls and an easy-to-lock tailgate.
For crews looking to limit their equipment footprint on a site, the Atlas has a VersaTrac Turf Mode that unlocks the rear differential, allowing for tighter turns—similar to a ZTR.
The front of the vehicle also has four lights, which was something the Gravely staff says customers asked for with the Atlas.
The JSV is available in four models: the three-seat JSV-3000 with a diesel or gas engine and the JSV-6000 crew model that holds six with a diesel or gas engine. All of the engines have a 10-gallon fuel capacity and ground speed of 35 mph.
The company also changed up their logo, which can be seen on the front of the vehicles.
Gravely worked with Polaris for two years to create the vehicle, which is on display at GIE+EXPO in Louisville, Kentucky this week. The Atlas JSV will be distributed next week.
Editor's Note: Lauren Heartsill Dowdle is the editor of sister site Total Landscape Care.