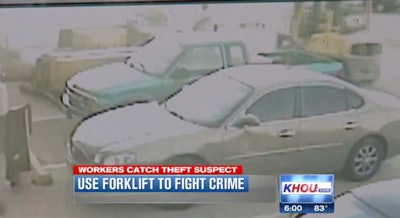 Police in Houston had been on the lookout for a suspected metal thief for quite some time before the man met his match in the very people he was trying to rip off.
According to a report from KHOU.com, forklifts are a big part of the job at Morrison Supply company where workers use the machines to load and unload trucks day in and day out.
On Sunday a man stole some copper from the company and on Monday walked right back in to do it again, this time saying he was making a pickup for another company.
When workers recognized the man they sprang to action, pulling several forklifts in behind the man's parked truck, blocking him in.
When the man came outside and saw that he was blocked in, he began demanding the workers move the forklifts. Minutes later, the cops arrived and arrested him.
The suspect has not yet been charged as the police investigation around his alleged thefts is ongoing.