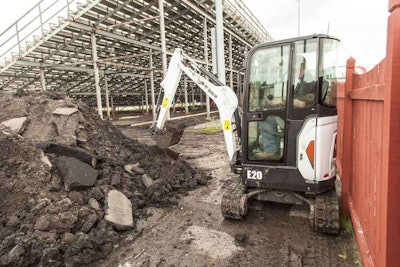 [imagebrowser id=123]
Bobcat's new E20 compact excavator, sized to fit in the 1-to-2 metric ton class and replacing the company's 324 model, will be on sale this fall.
"This has been a successful size for us, especially in rental applications," says Tom Connor, Bobcat excavator product specialist. The 4,211-pound machine is quickly transportable, capable of being hauled behind a properly equipped half-ton pickup.
"Although many applications for this machine require only digging 18 inches down, this machine has an exceptional reach at 14 feet 1 inches, which enables operators to reposition their machines fewer times, leading to greater efficiency," Connor says. With an 8-foot 6-inch dig depth and 8-foot 10 inch dump height, the 13.9-horsepower Tier 4 Final unit offers 3,620 foot pounds of bucket digging force and 1,778 foot pounds of arm force. The unit has a 2.5 mph maximum travel speed and can easily load 1-ton trucks.
Unlike the conventional tail swing 324 model the E20 is replacing, the new excavator is a zero tail swing unit, which stays within the width of the fully expanded undercarriage. "This helps operators avoid hitting the tail of the machine against walls, air conditioning units and other obstacles," says Connor.
Connor says Bobcat is bringing several features down to the E20 size from its larger compact excavators, including cylinder cushioning to alleviate abrupt stops at either end of the arm cylinder and automatic braking on the slew motor anytime the motor is shut off.  The E20 now has auto shift travel, which shifts the unit out of high range and back automatically without having to manually downshift. And boom cylinders have been put on the top of the boom, eliminating the potential of hitting the blade with the cylinder.
Another feature that's been brought down from larger excavators: integrated slew brakes, which hold the load still and steady while working on slopes, aiding accurate placement. And there's no need to manually engage the slew brakes during transport, allowing for flexible brake positioning.
The E20 now shares the the same instrumentation panel as in Bobcat's loaders and larger excavators, providing a full range of critical operational information as opposed to the 324's more basic gauges. The machine also has a keyless start option, made possible by its advanced electronics. "This helps owners prevent unauthorized use, which can help eliminate the notion that sometimes crops up on jobsites that it's a community machine," Connor says.
Don't miss the video above shot by Equipment World sister site Total Landscape Care.