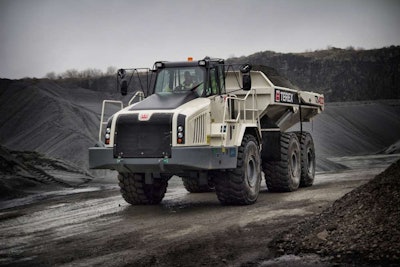 In a statement today, Volvo Construction Equipment added to comments it made to Equipment World earlier this month on its new Terex Trucks division, adding information about the division's global status.
Paul Douglas, Terex Trucks managing director with Volvo CE, says Terex Trucks will continue to operate as an independent business, while drawing on the resources of its parent company. "Our new 'owned but independent' status gives us the best of both worlds," Douglas said.
"The Terex Trucks name will remain for the long term and we remain fully committed to our entire customer base and product range," Douglas added, noting that both the Terex articulated trucks and rigid frame will "play important roles in the company's future." Douglas said Volvo was "committed to retaining our dealer partners, our existing production footprint, and our skilled and committed workforce."
Douglas calls the Volvo CE acquisition "well timed," positioning the company to take advantage of any upswing in the currently depressed mining segment.  The Terex Trucks line up includes five rigid-frame models, from the 31.8-metric-ton TR35 up to the 91-metric-ton TR100 and three articulated hauler models.
"At Terex Trucks, it's business as usual—but with added muscle," Douglas says.