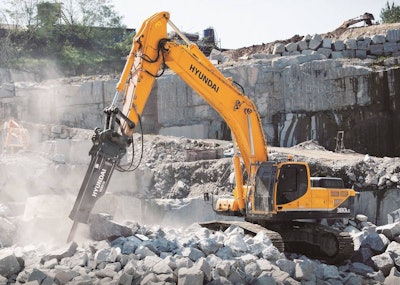 Hyundai Construction Equipment has introduced a line of hydraulic breakers, the HDB10 through HDB800, to the North American market. Consisting of 14 different models, the HDB series breakers are Hyundai's first entries into the attachments market.
With a chisel diameter from 1.6 to 7.9 inches, the HDB series breakers are suitable for all sizes of Hyundai excavators. Operating weights for the breakers range between 271 to 12,401 pounds, with lengths ranging from 44.4 to 159.8 inches. The breakers are available with four chisel options – moil, wedge, blunt or conical.
The breakers come with a range of different features, including an Anti Blank Firing system that is standard on HDB50 through HDB800 models. The ABF system prevents the breaker from continuing to strike once the material has been demolished, helping to protect the chisel pins, tie bolts and front heads, as well as increasing component service life. An Auto Control valve enables breaker operation to automatically start again via a small amount of pressure applied to the chisel, and will automatically stop once the chisel is lifted or breaking is complete.
A two-stroke selector system is standard on HDB50 through HDB180 models, which allows the operator to change from long to short strokes, depending on operator preference and the task at hand.
An Energy Regeneration Valve is standard on the HDB600 and HDB800 models. The system captures upward flow energy after the piston hits the chisel and retracts, harnessing up to 15 percent of the energy to be applied on the flow energy back down, increasing blow speed and boosting production rates.
Additional features include NOK oil seals for long seal life, including an additional square buffer that increases durability and minimizes shaking action on the HDB210 to HDB800 models. An optional Auto Grease Bracket Mounted system that allows for automatic greasing is available on the HDB140 to HDB800 models.