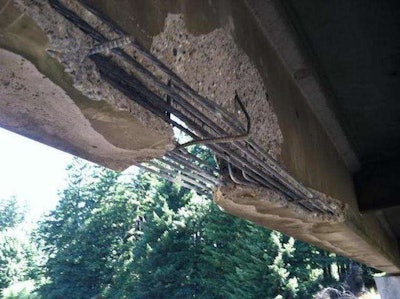 While being hauled by a truck traveling through Thurston County, Washington, last week, an excavator's boom collided with five different bridges before the driver finally pulled over.
According to a report from The News Tribune in Tacoma, the Washington State Department of Transportation says that all five of the bridges will require repairs.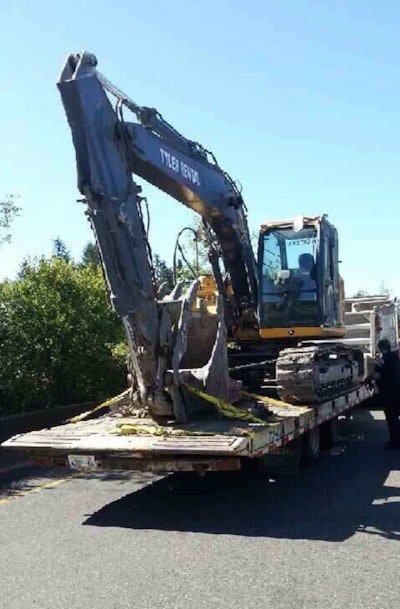 The driver of the truck, 45-year-old George Russell, was delivering the excavator to an equipment rental company. Washington State Patrol Trooper Guy Gill told The News Tribune that Russell is "facing numerous defective equipment violations, registration and height and weight violations," starting with the fact that Russell did not lower the boom of the excavator before hauling it.
In all, Russell is likely facing fines in excess of $1,400, Gill told the paper.
Gill said several drivers saw Gill hit the bridges and some even had to avoid falling debris in the wake of the collisions. Two vehicles were damaged by the bridge debris and both suffered flat tires. Luckily, no one was hurt.
Incredibly, Russell told troopers that he didn't know he was hitting the bridges. "The driver did tell us that he did feel some surges while he was driving, but he didn't know what that could be," Gill said.
After inspecting the damage, WSDOT crews determined that none of the bridges' structural integrity had been affected. None of them will be closed or put under weight restrictions since the main beams were not impacted. The damage occurred only to the bridges' bottom flanges, which the WSDOT says are designed to protect the main beam in the event of such damage.