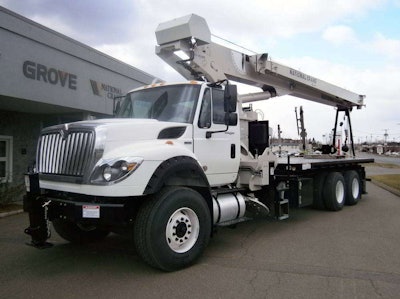 The National Commission for the Certification of Crane Operators has launched the first phase of a new certification program for boom truck operators.
A second phase of the certification is already in the final stages of development and a swing-cab equivalent is planned for launch by year's end.
Dubbed the CCO Boom Truck-Fixed Cab (BTF) operator certification, the new program covers cranes "consisting of a rotating superstructure (center post or turntable), a fixed or telescopic boom, operating machinery, and one or more operator's stations … mounted on a frame attached to a commercial truck chassis with a payload hauling capability and is equipped with its own power source," according to the NCCCO announcement. "Its function is to lift, lower, and swing loads at various radii, requiring the use of outriggers/stabilizers."
NCCCO says the new certification is a subcategory of the CCO Telescopic Boom-Fixed Cab (TSS) certification. Boom truck operators who already have a TSS certification do not need to take the new certification exams. NCCCO says these operators will be automatically granted the new BTF certification.
The program consists of a written exam that is a modified version of the TSS written exam.
"Candidates must take the Mobile Crane Operator Core written exam as well as a Boom Truck Specialty written exam, which features a Manitex boom truck load chart. The practical exam remains unchanged from the TSS program, but BTF candidates are required to take their tests on boom trucks. All NCCCO certification eligibility and medical policies of other CCO operator certifications apply," according to the NCCCO announcement.
Development of the program began early last year after a request for it came in to the NCCCO from users and manufacturers of boom trucks. Joel Oliva, manager of test development and administration at the NCCCO, pointed to the new OSHA rule 1926 Subpart CC that governs any crane with a lifting capacity greater than 2,000 pounds and requires operators to be certified by Novemeber 10, 2017.
Since most boom trucks don't operate in typical construction applications, the NCCCO says the new certification was developed for industries such as building supplies, HVAC, sign installation and tree maintenance.
You can find more information on the new boom truck certification program at nccco.org/boomtruck. The Mobile Crane Operator Candidate Handbook with exam applications and other BTF program information can be downloaded at nccco.org/handbooks#mobile.