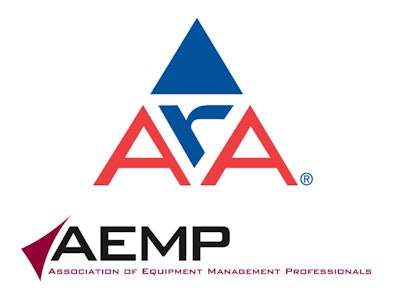 The Association of Equipment Management Professionals today announced a partnership agreement with the American Rental Association. The collaboration will enable the two groups to share information, education and training opportunities and research initiatives.
"Equipment fleet management is a key element to running a profitable equipment rental business and AEMP has excellent education, certification programs and conferences that provide quality professional development for equipment management professionals," says Christine Wehran, executive vice president and CEO of the ARA.
"The AEM/AEMP Telematics Standard is a great example where they've focused on creating industry technology standards that can advance efficiencies in ARA member fleets," Wehran said.
The telematics standard was announced at a joint AEM, AEMP press conference at ConExpo in March. Once released, the standard will set common data protocols for 19 different telematics data points and additional fault codes. Practically speaking, it will allow the users of mixed equipment fleets to get all the telematics data in a standardized form and eliminate the need for fleet managers to go to each individual OEMs website to collect the data.
AEMP also announced in March that a beta version of the standard would soon be available to OEMs and third party telematics providers. For more information check the links in the article here.