For the second year in a row, the Ford F-150 has taken the top spot in the annual American-Made Index by Cars.com.
The ranking takes into account three factors to determine how "American" cars are, including domestic-parts content (percentage of a vehicle's parts considered to be "domestic," meaning built in the U.S. or Canada), final assembly point and overall vehicle sales.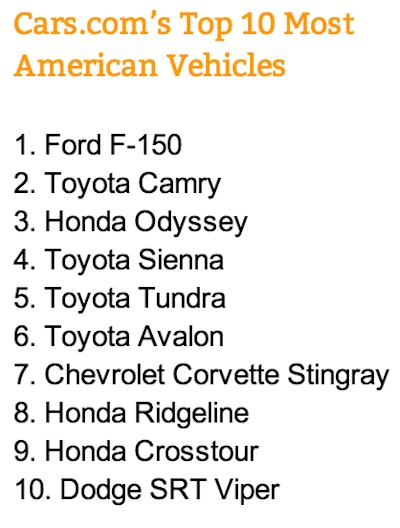 "We uncovered a pretty remarkable phenomenon when compiling this year's list," says Patrick Olsen, Cars.com editor-in-chief. "Only 10 cars were eligible for the American-Made Index this year. That's the fewest in the study's nine-year history. In 2013, 14 cars met the threshold, 20 in 2012 and 30 cars the year before that. This consistent decline points to global nature of cars these days. Production in the U.S. is up, but parts are coming from all over the world, making the notion of classifying cars as 'American' more difficult than ever."
While the top two spots on the index remain the same from previous years, the bottom of the list introduces four models that are first-timers to the Index. Additionally, this year's index leans heavily towards foreign automakers, which fill seven of the top 10 spots.
"This is a drastic shift from the past," said Olsen. "For several years, there was a pretty even split between domestic and foreign automakers on the list. For the past two years, three GM crossovers made up about 30 percent of the list, however they've dropped below the requisite domestic parts content and, as a result, Toyota and Honda really dominate."
The top spot on the American-Made Index has gone back and forth between the Ford F-150 and Toyota Camry for several years, and this year's ranking showed little change to the top of the list.
This also was the F-150's fifth time in the number one spot since the American-Made Index was created nine years ago.
Other pickups on the list include the Toyota Tundra (made in San Antonio) at No. 5 and the Honda Ridgeline (Lincoln, Ala.) at No. 8.
Editor's Note: Kevin Jones is a senior editor at sister sites CCJ and Hard Working Trucks.