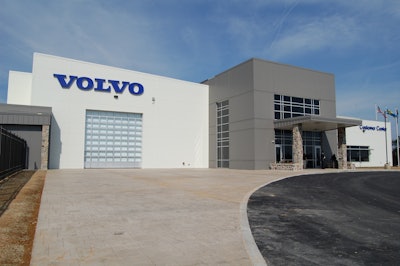 [imagebrowser id=100]
More than 6,000 customers, operators and dealers are expected to visit Volvo's Shippensburg, Pennsylvania-based Customer Center in its first year, a new facility that on Monday hosted ribbon cutting ceremonies with guests Congressman Bill Shuster, Congressman Lou Barletta, Congressman Scott Perry, Swedish Ambassador to the United States Björn Lyrvall and Pennsylvania State Senator Richard Alloway.
Set on 40 acres, the new 20,000-square-foot center is part of a $100 million North American investment that includes consolidating Volvo's North American operations in Shippensburg and localizing production by moving wheel loader manufacturing to Shippensburg.
Excavator and articulated truck production are also planned for the location. Eventually, 70 percent of the Volvo equipment sold in North America will be produced at the Shippensburg complex, says Volvo CE Americas President Göran Lindgren.
The center will host sales, operator training, dealer visits and events. An equipment demonstration area replicates jobsites, and features 10 bays. More than 70 models will be onsite for customers to get hands-on experience in operating the equipment, and the area will feature segments for specialty machines such as pipelayers and high-reach demolition excavators.
But perhaps the the demo site's most impressive feature is a 1.5-mile test track with steep grades, a replica quarry application and a ground structure for demonstrating articulated haulers. In a recent article from Volvo's in-house magazine Driver's Digest, Volvo's Billy Ogle explained the test track as one unit with two parts: on the outer ring is the highway test track and nestled inside is the off-highway portion. "The inner circuit is a real test of our off-highway range—we've got inclines of up to 27 percent. Fom my experience in the construction industry, I can tell that this is a very good real-life test of any vehicle. "
Design and construction of the test track was all done in-house and Volvo says the track is so rugged they'll be using it for quality control. It's not often that customers get to drive the same test track as company engineers, but that's what Volvo has put together at the new facility.
Also on site is the Heritage Hall, which acts as a small-scale history museum for Volvo equipment, and a Volvo shop.
At the ribbon cutting ceremony, Volvo provided a demo of a variety of its heavy equipment. You can watch the highlights below.