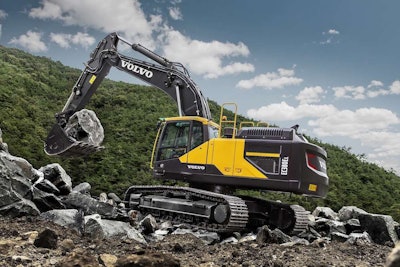 [imagebrowser id=99]
With a 9-percent improvement in fuel efficiency, the Tier 4 Final EC380E excavator takes full advantage of its ECO mode, which reduces on-demand flow and pressure loss in the hydraulic system.
The ECO mode is designed to increase control for more precise performance in whatever work mode an operator puts the machine in: Idle, Fine, General or Heavy (the perennial U.S. operator favorite). Following user pre-set preferences, if controls are inactive for set amount of time, the excavator will automatically reduce engine speed—or even shut down. A gauge in the cab shows operators both current and average fuel consumption.
In moving from Tier 4 Interim to Tier 4 Final, the active regeneration on the excavator moved from every eight hours to every 500 hours, according to Chad Hastings with Volvo dealer Flagler Construction Equipment. (See his walkaround of the unit below.) With Tier 4 Final's SCR system, the EC380E will require diesel emission fluid, used at a rate of 5 percent per gallon of diesel. "The DEF tank is about 20 percent larger than the diesel tank so the chances of running out of DEF are slim," Hastings says. Users are advised to top off the DEF during fuel fills.
In comparison with previous models, the number of in-cab switches have been significantly reduced, Volvo says. The 8-inch color LCD screen can be read in any light — and adds Hastings, with polarized sunglasses on—a feature shared with the company's new A40G artic. A seat-belt warning alarm sounds if the operator seat belt is not fastened when the ignition key is turned. Operators can store the hydraulic pressure and flow needed for to up to 20 different attachments. In addition, a button on the left joystick can be programmed by each operator to perform an individual preference, such as power boost.
The machine's high tensile steel X-shaped frame has been reinforced, and additional superstructure cover plates prevent damage to the underside the machine. "Volvo has one of the most robust undercarriages in the industry," Hastings says. "They've thickened the track chains and improved the drive unit." Volvo is now offering a lifetime warranty on a new excavator's frame, boom and arm.
Serviceability improvements include putting the hydraulic oil cooler, charge air cooler and the radiator in the same compartment, Hastings says. In addition, all filters are grouped inside another service door.
The EC380L will be launched in North America this December.