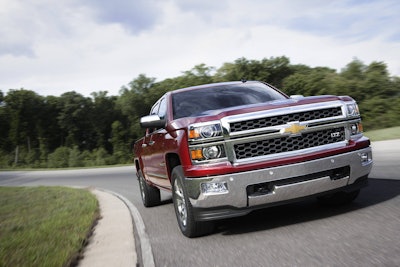 General Motors is recalling more of its pickups, this time even halting the delivery of thousands of the trucks to dealers in order to investigate them further for more potential problems.
In its fourth pickup recall this month and the second in the last week, the automaker recalled 500 2014 and 2015 model year trucks including the Chevrolet Silverado and GMC Sierra pickups as well as the Chevy Suburban and Tahoe, GMC Yukon and Yukon XL SUVs.
The trucks have been recalled due to "a potentially faulty supplier part in the sensing and diagnostic module that controls the vehicle air bags."
And according to a report from Automotive News, GM stopped delivery of 3,500 trucks in order to investigate an "undisclosed issue" apparently separate from the airbag recall.
The airbag recall is the seventh recall to affect GM pickups since the release of the 2014 Silverado and Sierra half-ton models which ushered in a design overhaul across the half-ton and HD models.
Less than a week ago, GM recalled 58 Silverado HD and Sierra HD pickups due to a fire risk and a week before that, recalled 477 2014 Silverados, Sierras and 2015 Tahoes due to a manufacturing defect that could cause a crash. It warned customers in that recall to not drive the trucks in to be serviced.