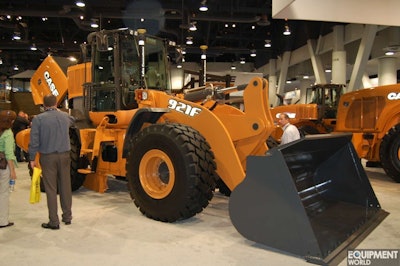 [imagebrowser id=37]
Case Construction Equipment (Booth 11722, North Hall) announced that its 821F and 921F wheel loaders have been updated to meet Tier 4 Final emission standards.
The wheel loaders are equipped with a selective catalytic reduction (SCR)-only solution that treats emissions separately with diesel exhaust fluid (DEF) and does not require the engine to re-circulate exhaust gas. This, Case says, optimizes combustion and machine performance, lowers engine temperatures and eliminates maintenance and downtime associated with filter replacement and regeneration.
Each loader has a best-in-class 6.7-liter engine that also provides quick throttle response and impressive torque. The 821F and 921F wheel loaders produce 212 and 241 net peak horsepower, respectively. The smaller unit features buckets ranging from 3.2 to 4.5 cubic yards, while the larger unit is sized for buckets ranging from 3.8 to 4.75 cubic yards.
Each machine is said to provide up to a 10-percent increase in fuel economy over the previous E Series models.
Additional fuel savings of up to 30 percent can be achieved with a standard engine shutdown feature that allows the operator to limit engine idle time, while an optional efficiency package provides even more fuel savings through features including a five-speed lockup transmission, axles with auto-locking differential and advanced system programming.
The 821F is available in a tool carrier configuration, and both units are available in extended reach configurations.