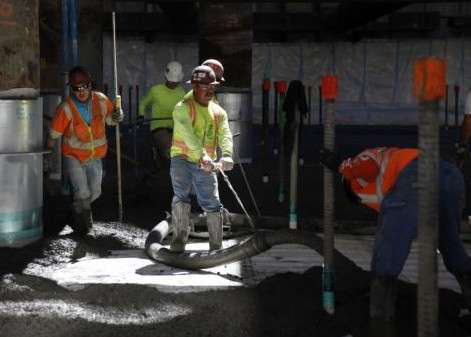 A construction crew in San Francisco is slowly amassing a small museum of the city's history.
While building the $1.9 billion Transbay Transit Center, described as a "Grand Central Station of the West," workers with the Transbay Joint Powers Authority have found several interesting items that represent various periods of the city's past, according to a report from the San Francisco Chronicle.
So far, workers have found a gold nugget, a 10,000- to 15,000-years-old wooly mammoth tooth and artifacts from working-class Irish families from the 1800s.
And earlier this week workers added to that collection when they discovered a human skeleton.
Workers were preparing to pour concrete when they discovered the skeleton 60 feet below ground. The crew contacted the San Francisco Medical Examiner's office which examined the remains and identified them as belonging to an American Indian.
The California Native American Heritage Commission was also contacted and will soon designate an American Indian to serve as a "most likely descendant" who will determine whether the remains should be left buried or removed from the site.
Work on the eight-story deep structure has continued though a 100-foot radius around the remains has been roped off.
Scheduled for a 2017 opening, the structure will stand five stories tall and will house eight bus agencies, restaurants, shops and a rooftop park, the Chronicle reports. And that deep basement is being built with extra room in the hopes of a high-speed rail connection.