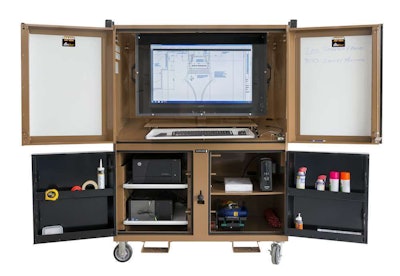 A walk around the Werner booth at World of Concrete showcased a number of intriguing products and upgrades.
First catching our attention was the Knaack Data Vault. "We found that general contractors were taking our tool cabinets and creating their own technology boxes," says Rob Swelgin, channel marketing manager for Werner, which has the Knaack and Weather Guard brands. "We wanted to give them something purpose built for the technology needs on today's jobsites."
Werner says the DataVault is the "first ever digital plan station" designed to offer secure technology for Building Information Modeling and other technical updates. The unit has the ability to sync various devices through wireless and direct connect points, giving contractors one spot for digital project management.
The adjustable onboard 40-inch TV monitor, encased in a protective acrylic surface, gives workers the ability to update and view real time plans without waiting for updates from the office.
With castors, four lift points and a width of 55 inches, the DataVault can be positioned in almost any area on a jobsite, including interiors several stories high. Contained in a box made out of the same 16-guage materials as Knaack lockable toolboxes, you can secure your computers, cameras and other digital devices.
In addition to the TV monitor, the unit comes with an AirPrint color laser wireless printer, a three-position hatch, USB switch and hub, Power Crew box power supply that provides four GFCI outlets, and a backup power supply that sounds an alarm and supplies up to 30 minutes of emergency power.
Enhancing its capability as a jobsite hub spot, the doors have two white boards that flank the monitor. "In some cases, this might enable contractors to get rid of their jobsite trailers," Swelgin says. The 750-pound unit (the weight fully loaded with electronics) has a suggested retail price of $6,500.
Another Knaack product is more along their traditional line, but has a new feature that makes a lot of sense. The 4830-D jobsite tool chest now has a bottom independently lockable "Junk Trunk" quick access drawer. "It gives you a 7-inch deep drawer, and also serves to raise the main chest's floor so you don't have to reach in as deep to retrieve items," Swelgin says.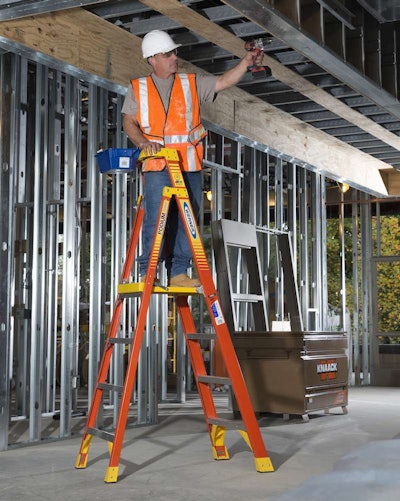 A plus: three sides of the lid serve as a handle, with an indent that goes all the way around, roomy enough for hands encased in gloves. The unit also has an air strut assist "anti-slam" lid.
Finally, the standard 300-pound ladder gets a new twist with Werner's Podium model, which addresses the human tendency to step on the top of a ladder. The Podium, with a large platform, has a waist-high guard raise that securely wraps around the work zone and holds tools. Werner's main selling point: The Podium gives a stable platform to work in all directions, not just the work area facing the ladder. A lock-in system lets you customize the ladder top with multiple accessories.